Having been following the jaunts of Doug McMaster since 2012—documenting his collaborative eco-friendly café with artist, Joost Bakker, before his return to the UK with restaurant, bakery and coffee house, Silo, in Brighton (both venues now permanently closed)—we're thrilled to hear that the zero-waste pioneer has opened the doors of London's first zero waste restaurant; partnering with Hackney Wick's Crate Brewery following on from a crowdfunding campaign that raised a whopping £500,000.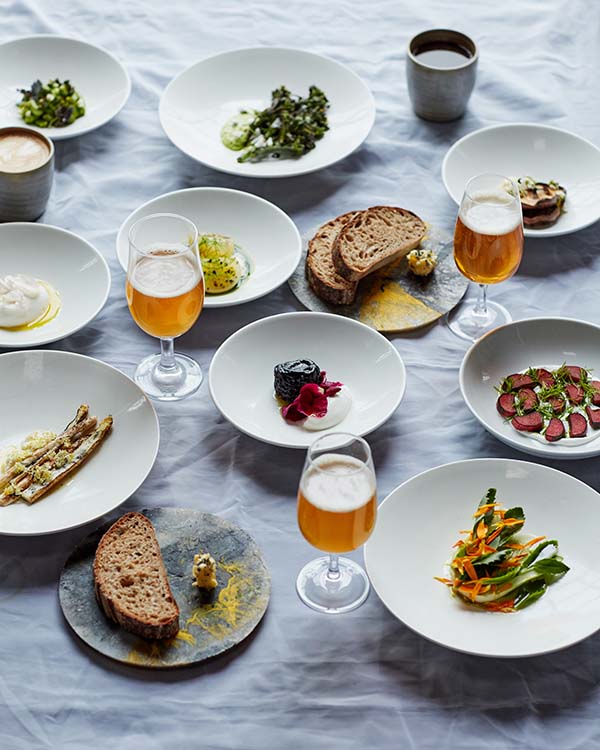 Using the investment to fund a major refurbishment of The White Building, the entire restaurant has been made of reused and sustainable materials—Silo's guests greeted upon arrival by a host stand made from offcuts and otherwise unusable parts of timber that have been laminated; a pendant light moulded from foraged seaweed hanging above. Fitted throughout, the stunning floor is made from pure, natural cork, harvested from the bark of the cork oak.
Diners sit at a long 18-seater dining bar wrapped in recycled leather, or at distinctive three-legged, round dining tables designed specifically for Silo; crafted locally by Jan Hendzel in his Woolwich workshop. Here, dishes such as braised friesian dairy cow, parsnip and peppercorn; Jerusalem artichokes, brown butter and tamari; and king oyster mushroom, represent a "desire to innovate the food industry whilst demonstrating respect: Respect for the environment, respect for the way our food is generated and respect for the nourishment given to our bodies."
In the cocktail lounge, furniture was grown to order from Mycelium, the vegetative part of a fungus and one of the most important organisms on our planet—a super-sustainable construction material of the future—whilst 30 custom-made wall lights were commissioned from Potters Thumb, made from crushed glass wine bottles from Silo Brighton. Coupled with their own flour mill and the 'no-bin' concept pioneered in Melbourne, Silo London's zero waste restaurant is an inspired project that will hopefully inspire others to set foot on this progressive path.