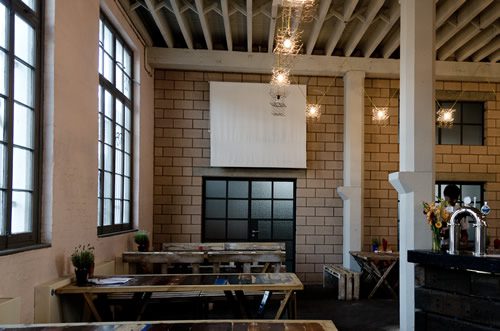 Warehouse style studios slash coffee shops slash galleries are no big news in East London. Considering the amount of empty spaces that go unused it's a standard that these will, and should be, occupied by the usually poor artisan community. Quite often though they're closed off, not just because of their unvisitable locations but as the communities pull together they become almost cliquey and outsider.
How great is it then when you stumble across a community leading the waves in café, art, and theatre culture, in parts of London once only suitable for mid-morning warehouse parties? One great example of how commercially viable and inspiring a small community can be is the brother and sister duo of Jess and Tom Seaton. Having opened one of the first cafés in Hackney Wick – the Counter Cafe – they have now delved into the world of craft brewing.
Crate Brewery is located canal-side in recently featured The White Building, once a burned out shell for ravers, now a leader in the Olympic Legacy project. Not only does it produce its own ales and beers, it also does amazing world-inspired pizzas… more on that later.
Creatively directed by Kyle Hickey (part of the Crate family), who began his career in digital design, he's transformed the space into a modern, salvaged and rather interesting space. Having acquired materials from Michael's Warehouse – including large iron hooks, bedsprings, wood beams, ladders… you name it – Hickey has revamped the bright open space into a mecca for recyclers and upcyclers alike. The lights are bare lightbulbs on yellow cord, with cut bedsprings for shades; the benches are reused ladders and slack-lines; and the sofa is made out of sandbags screen-printed by James Brown, another family member (not the Godfather of Soul). As much as they could have has been salvaged, borrowed and stuck into creating the stylish ramshackle aesthetic of this bar/pizzeria. You can check out the making-of photos on their Facebook page.
Their current menu hosts three of their own (brewed on-site) beers – the Crate India Pale (5.8%), Crate Golden Ale (3.8%) and Crate Lager (4.8%) – with plans to introduce Crate Wheat, Best and Stout to the line-up. I loved the lager: light crisp and not too hoppy, however the boys all fell for the IPA: not killer strong, but proper boy stuff! And if you don't fancy trying their own fare, there's bottled world beers available from Germany, Italy and Belgium; all served by non-pretentious, smart and friendly staff.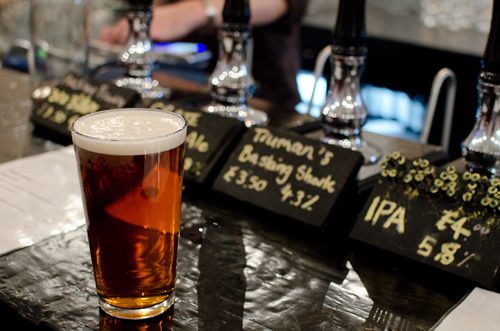 We decided to share a combo of three pizzas, the Laksa Chicken, local favourite Middle Eastern Lamb and the Red Onion, Courgette, Feta & Gremolata and boy were they good. I'm a huge pizza fan, it would be my death-bed choice, and I have to say we really enjoyed the interesting world flavours. Couldn't quite decide whether the marinated roast chicken (in coconut and lemongrass, combined with mushrooms) was better than the devilled lamb with spinach and pine nuts – we even took a vote – but the stone baked, light and crispy bases were incredible and, of course, handmade on site.
To sum up, I'd recommend Crate to literally everyone who'd listen; simple, stylish, great atmosphere both in and outside sitting by the water, watching bright young grubby things chatting, whist hearing old trains roll past. It's two whole minutes from Hackney Wick station too, and literally across a big road from Victoria Park; and, if you're making a day of it, you might as well explore Fish Island. But don't just take my word for it, Grace Dent is a huge fan too, and if she says it's good – then these guys have got it spot on.