Can a festival continue to grow at an exponential rate? Rocketing from under 8,000 visitors to more than 100,000 in the course of a decade, you might think for Barcelona's Primavera Sound that the answer is firm no. 18 editions in, though, and here is a festival on steroids, a leviathan plugged into the buffed muscle-car gloss of America's bigger-is-better bravado. Quality never surrendering to quantity.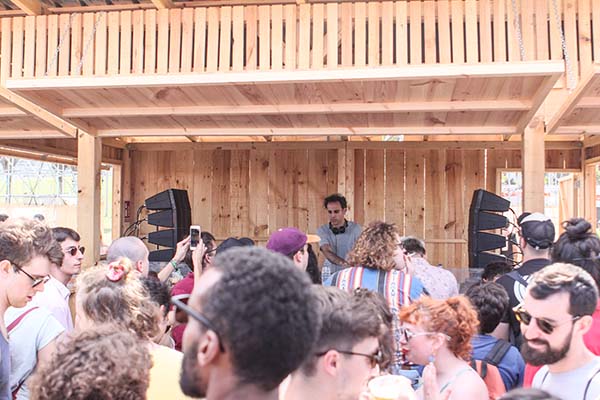 Proof of that is in the 20km plus per day your iPhone tells you you've walked, in the agonising blisters your new shoes have carved into your feet. It's in the hangovers and the memories and the dancing barefoot in the sand for six hours. In a week of cultural events that encompass the entire city, up to 220,000 people from 126 different countries are thought to have engaged in this Primavera experience. Having only just broken the 100,000 visitors mark eight short years ago, 2018's festivities show a gathering indomitable in its ability to transport international bacchanals to a temporal republic of revelry.
Expanding on their Primavera Bits festival-within-a-festival this year, Xiringuito Aperol brought the party to the beach; a trio of intimate six hour sessions curated by Four Tet, Floating Points, and Dekmantel Soundsystem grinding each day at the Parc del Fòrum into action. Neuroscientist-turned-raver Sam Shepherd—aka Floating Points—has the sunburnt crowd in his hands on Friday, the evening drawing in as his expansive solo six hours behind the ones and twos bolts through funk, disco, soul, and hip hop; Pusha-T's just-released Kanye-produced banger, Come Back Baby, sending the tightly-packed dancefloor into histrionics as the set begins to reach its climax.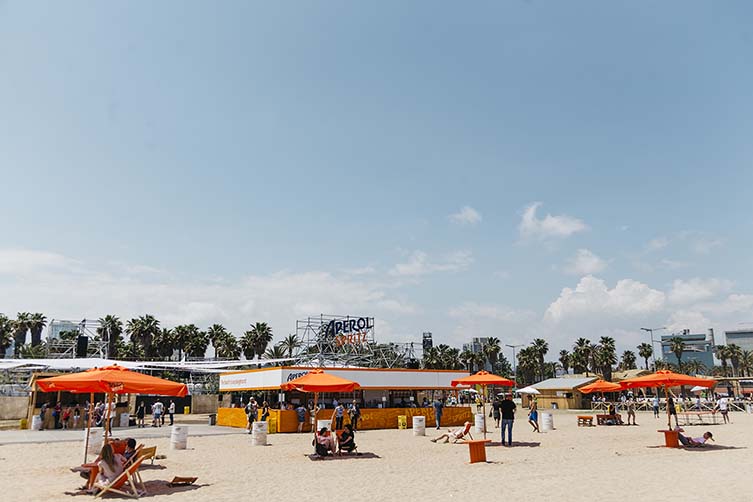 As the marathon sessions on the Xiringuito close at 18.00, life crackles on Primavera Sound's main-stages—after all, this is a festival of the night where sets run through until 05.30. Thursday sees living Goddess, Queen of batshit avant garde pop, Iceland's great gift to the humble subjects beneath her, Björk Guðmundsdóttir, command the Seat stage with flautists and floral pomp; her delicate arrangements enchanting, comforting, magnificent.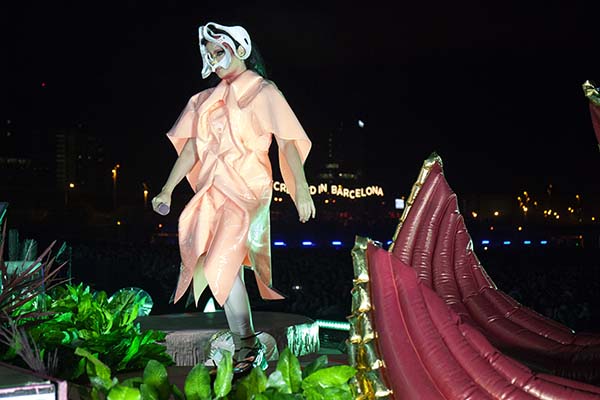 Her peculiar but profound talent is a benchmark for the diversity that ripples through the weekend. The haunting post-r&b of Kelela; Evian Christ's intense crackling atmospherics making way for spleen-rupturing gabber; the scattered beats of footwork pioneer Jlin; Mike Patton-fronted hardcore with Dead Cross; Arca's ethereal intensity; and the non-conformist performance art of Gaika. Genres are pathetic souls lost at sea.
From swimming in the Med to gaping at the Parc
del Fòrum's singular architectural forms, pounding the well-trodden path to the two headline stages overlooked by the outré modern architecture of its surrounding neighbourhood, Primavera Sound offers an experience few others can match. There are festivals on spellbinding tropical islands, urban shindigs where street art and block-rocking-beats swamp their visitors, expansive occasions with miles to walk and countless stages to encounter, but not many can lay claim to it all.
Music and settings diverse, so too is the festival's culinary offerings: two Michelin-starred Diego Guerrero; Douglas McMaster of Brighton's zero-waste project, Silo; local street food restaurants; paellas from much-loved beachside restaurant Kauai de Gavà; and Mexican chef Eduardo 'Lalo' García, whose triumphs and tribulations were documented in the Netflix series Ugly Delicious. Committed to enhancing its experience year in, year out, team Primavera are addicted to amplification.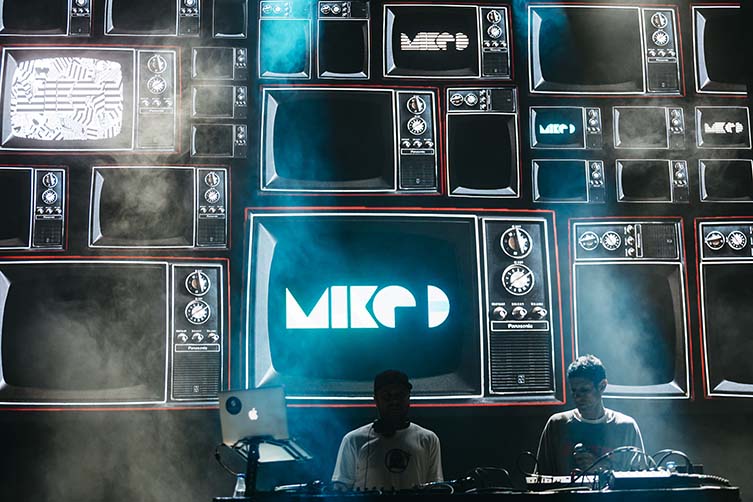 Heterogeneous in its miscellany of originality, avant garde, and innovation: yes yes yes. But some of 2018's finest moments come along when the act of pushing boundaries swaps its progressive shoes for dancing shoes. In a frightening world of divisive politics, togetherness is more important than ever, and those raised on a diet of inclusivity and love raise the metaphorical roof throughout the weekend. Mike D blasting through So What'cha Want, Sabotage, and Intergalactic; Levon Vincent transporting us to a slamming New York warehouse; the liberating hands-in-the-air discharge of Honey Dijon or Peggy Gou; DJ Coco's traditional closing set or the brilliant pink sunrise over The Black Madonna's triumphant homage to dance music history.
Sometimes music is about primal creativity and smashing the hell out of derivative three-chord white guys with mod haircuts, about forging new paths and guiding culture in unknown directions. Sometimes it is about the transcendental experience of unity; about hugging the death out of the stranger next to you and screaming your last scream because Candi Staton's You've Got The Love made you do it. Either way, this 18th edition had you covered. And you can bet your soul that Primavera Sound 2019 will bring more (and more, and more, and more) of the same.