It's fair to say that Best Western doesn't conjure the most evocative of images. While the name Hilton may retain a certain cachet regardless of how mundane the property and its location may be, the big BW has a kind of Holiday Inn feel about it. However. The times, as Bob told us, are a-changin'.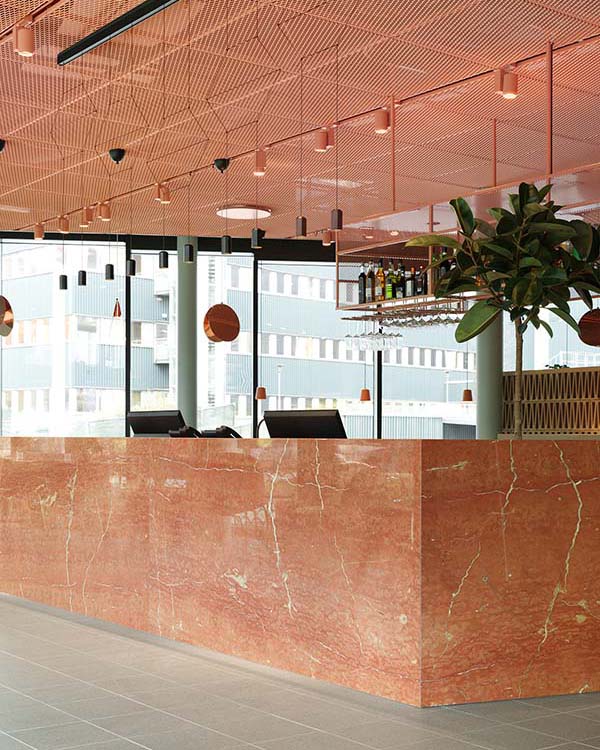 Note Design Studio are the masterminds behind the harmonious interiors at Grow Hotel, a modern new hotel located in Stockholm's Solna Strand area that falls under the 'Best Western Plus' brand, and offers a mix of long-stay studios complete with their own mini-kitchen, and guest rooms—many with the capacity for up to four guests—with a slew of modern amenities.
Boasting the International Green Key label, supported by UN agencies UNWTO and UNEP, Grow Hotel will continuously minimise its environmental impact through reduced energy and water consumption, use of renewable electricity, and organic purchases. And it looks bloody nice, too.
For the stylish bedrooms, Note Design Studio—the team recently responsible for the stunning renovation of London's Summit House—chose to decorate them with a tranquil palette of blue and grey tones blended with warm terracotta; along with floor-to-ceiling windows that give a feeling of additional space in what are already well thought out rooms. Parquet lines the bedroom floor, whilst bathrooms are tiled with underfloor heating and large monsoon showers.
Dining comes courtesy of Norobata, a restaurant concept created specifically for the hotel which offers a Nordic take on the Japanese cooking method of robatayaki; ingredients cooked at an extremely high temperature to produce sharing plates such as grilled salmon with panka, sweet miso sauce, served with roasted nori, mini silver onion and pickled onion with mustard seeds; and the entrecôte, a grilled 250 gram Black Angus premium, served with a balsamic teriyaki and truffle oil.
With the lobby doubling as an inviting living room and an outdoor terrace on the courtyard to be enjoyed in the warmer months, guests have no shortage of space to socialise with other guests and curious locals, or enjoy a spot of downtime away from their room.
A business hotel with style, Grow Hotel is somewhat of a game-changer. Best Western you say?…