Leaving just the original art deco façade and carved wooden entrance door, Note Design Studio carried out a complete overhaul on a 1925 Grade II* listed building on Red Lion Square, the collaboration for The Office Group (TOG)'s new coworking space Summit House the studio's first major UK project. Quite the debut.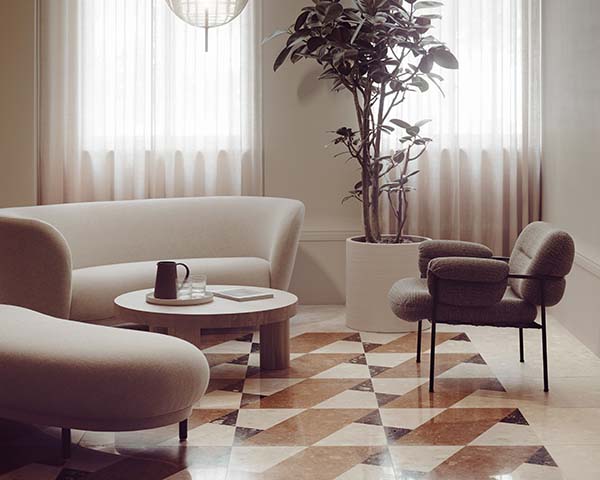 Set across four storeys, members can work across a number of spaces; from flexible desks to private offices, a comfortable lounge, and the roof garden, an outdoor oasis to hold meetings or catch up on emails. With prices adapted to reflect the needs of members and its location just a few minutes away from Holborn tube station, there's something to suit everybody ,from the super flexible to ultra demanding, and all in an art deco gem with timeless design.
Basing the concept for the interior design on Swedish Grace—a pre-functionalist style of modernism that spanned the 1920s—Note opted for a light and sculptural aesthetic here, creating a focus on geometry and balanced proportions. A captivating entrance awaits members and their guests, where custom-made terrazzo flooring and an exaggerated reception area cites inspiration from Wes Anderson's famed use of symmetrical compositions and perspective to create eye-catching design details.
The colour palette and choice of materials become more tonal as you traverse the 45,000 sq ft building, warm tones of oak wood combined with stainless steel, stone, glass and more terrazzo adding a splash of sophistication; especially so when paired with Lee Broom, Chris Martin, Philippe Malouin and Note Design Studio's own decadent design pieces.
Stunning both inside and out, Summit House is sure to mainline inspiration into its members; a place of resplendent design to call home for the working day, no matter how long that may be.
@theofficegroup
@notedesignstudio