Housed within a monumental 1930s warehouse—originally designed by Swedish architect Sigurd Lewerentz for Philips—Blique by Nobis is a new 249-room urban hotel that doubles as a natural nucleus for both local and travelling creatives.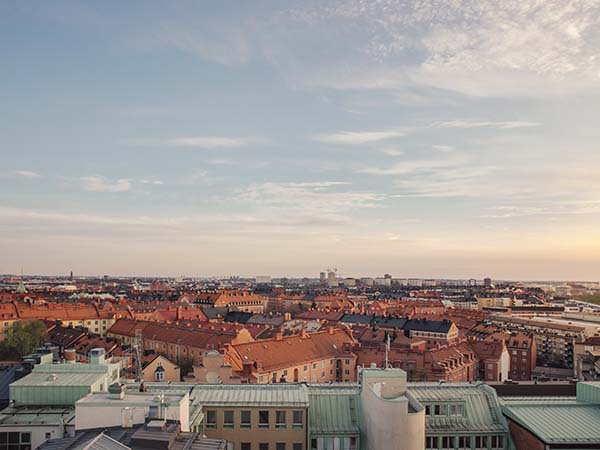 Sandwiched between Stockholm's Vasastaden district and Hagastaden neighbourhood, amid an unrivalled community hub for design, architecture, visual arts, food and music, Blique by Nobis blends into its industrial surrounds following architect Gert Wingårdh's careful transformation of the landmark building, which saw him ensure the architectural integrity of the original structure remained intact, with a design concept defined by the use of concrete, steel, and exposed metal pipework.
Conceived to be frequented by locals as much as it is travellers, the latest opening for the Nobis Hospitality Group—whose hotels include aptly named Nobis Hotel and Miss Clara by Nobis—boasts a diverse offering of restaurants and bars, a rooftop terrace with quite stunning views, bustling public courtyard, and an impressive cultural calendar.
A contemporary urban property, the new Design Hotels member fuses Gert Wingårdh's inimitable 'high organic' style with classic Nordic design. Marrying form and function, the guest rooms have been designed to combine space efficient solutions with the beauty of artisanal craftsmanship. Ranging from ten to 66 square meters, the rooms and studios here feature beds from Bed Factory and custom-designed, open storage units rendered from steel tubing; the hotel's Studio suites offer fully-fitted kitchenettes, ideal for the long-stay visitors.
An aesthetic marvel fitting of a Stockholm icon, the hotel is careful to not be defined by its heritage, instead embodying a contemporary collective where innovative architecture and design coexist with the art of social interaction. Accessed by a public courtyard that invites visitors to linger, whether you're here for a nosey, a night or a longer stay, Blique by Nobis is all things to all creatively-minded people; another triumph for the design-led hospitality brand.