At Six, a place where contemporary art meets design; a place to sleep, dine, mingle and be surprised. Located within a high-rise Brutalist building on Stockholm's Brunkebergstorg Square, the 343 room property is the city's latest social hub; and home to one of Europe's most ambitious hotel art collections.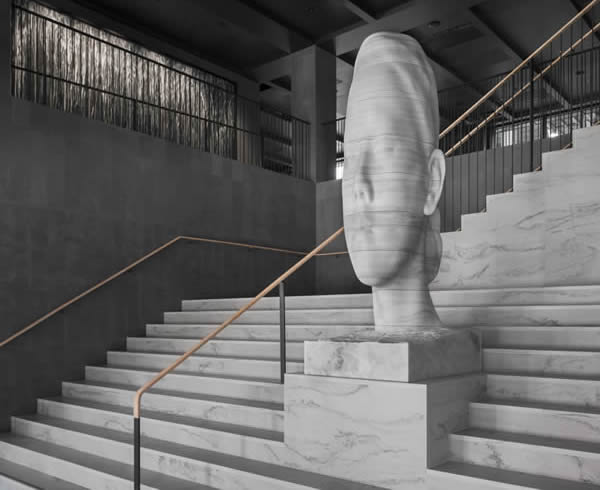 Originally designed in the 1970s the building was once a haven for the city's socialites, quite the place to see and be seen. Starting life as a hotel, it went on to function as Swedbank HQ until Petter Stordalen (of Nordic Hotels & Resorts) acquired it. Along with London-based architecture practice Universal Design Studio and former curator at BALTIC Centre for Contemporary Art, Sune Nordgren, Stordalen has brought back the glory days and then some; creating a hotel where luxury and art have equal billing.
At Six's designers approached the project with care, reinterpreting the brutalist aesthetic of the building and its immediate surrounds. A complete interior renovation was undertaken, the latest incarnation lending a sense of permanence through a palette of sawn stone, blackened steel, fine timber and polished granite. The hotel features original artworks by the likes of Olafur Eliasson, Julian Opie, Sol Le Witt, and Catalan artist Jaume Plensa; who was commissioned to create an imposing 2.5 metre-high head cast in white Almeira marble for the grand lobby staircase.
Photography from Swedish photographer Dawid are dotted around the vibrant public spaces, which encourage mingling through communal tables (carved from a single Swedish Elm trunk by local artist Lies-Marie Hoffman); your designer room upstairs decorated with local and international furniture, bespoke lighting, natural materials and warm grey tones. Your very own sanctuary in Stockholm's latest hotspot.