With a name inspired by the travelling lifestyle of 1930s America, Hobo is a place where urbanism and modern design meets a love of local flavour. More than just a hotel, Hobo is a real experience; where new adventure lies just around the bend.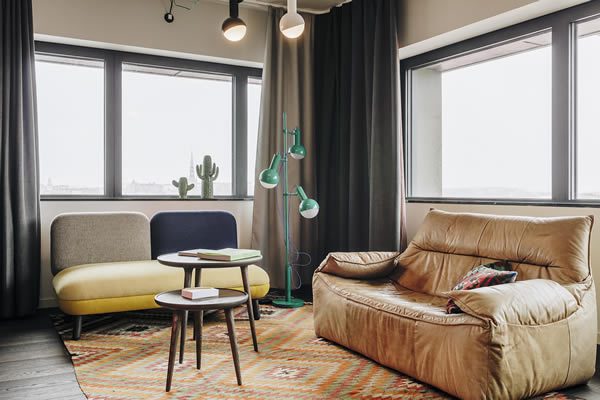 Located alongside swanky art hotel At Six in a 1970s brutalist building on Stockholm's Brunkebergstorg Square, the 201 room hotel features hobo style by acclaimed designer Werner Aisslinger of Studio Aisslinger; who has designed a space where creative functionalism is key.
At Hobo, peg walls double as a place for guests to hang their clothes and accessories, whilst the headboard transforms into a sleek work desk and storage unit. Windows play an integral role in the design; framed by a funnel, they overlook the Stockholm skyline allowing guests to, as Aisslinger explains, 'see the sky through a funnel, bringing them a moment of surprise'.
There might be 'a touch of hippie' to the Hobo narrative, but digital nomads won't be left wanting — all modern conveniences, and more, have been covered; essential gadgetry accompanied by gubbins left around purely for your diversion, Stockhom-based tech brand Teenage Engineering's brilliant Pocket Synth allowing guests to soundtrack their own vagabond escapades.
Dominating the space at Hobo are two floors of social spaces that contain a restaurant, bar, event space, pop-up areas and plentiful other twists and turns; all set amongst inspirational art and design from some of Stockholm's leading creatives (Omnipollo's Karl Grandin lending two large-scale works to the mix) and international brands. An extensive aquaponic system is being used for urban farming, where herbs and other produce for Hobo's restaurant will be grown. Just grab your hat, we'll travel light, that's hobo style.