With influences from the South of France, Morocco and Paris, Merci Marcel Orchard Road—the third MM outpost from Antoine Rouland and Marie-Charlotte Ley Rouland—is a contemporary café and bar for 'urban bohemians'; longterm collaborator and designer, Hui Designs, using an eclectic choice of colour, texture, design, lighting, vintage and modern furniture to create a beguiling space in Singapore's Palais Renaissance shopping mall.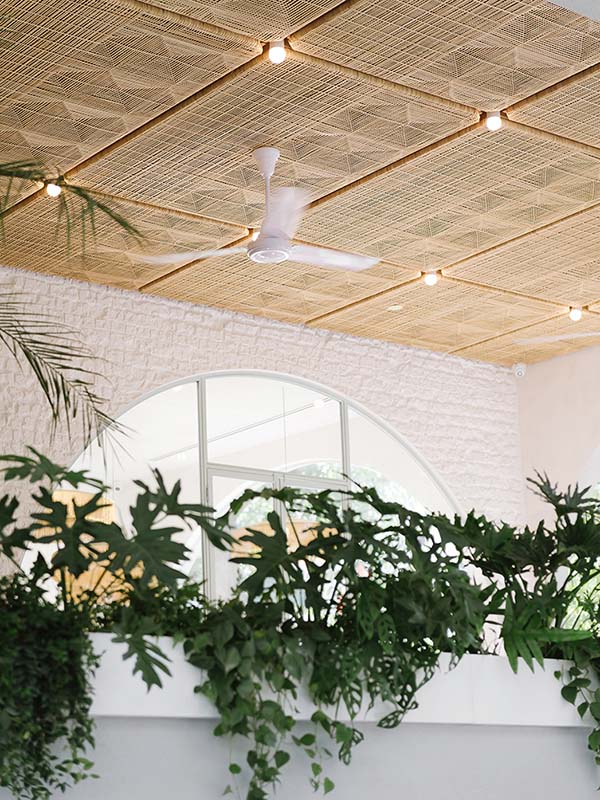 Following on from Merci Marcel Club Street and Tiong Bahru, patrons of Merci Marcel Orchard Road will immediately feel the designer's contemporary interpretation of 'France In The Tropics' upon stepping into the fledgling chain's new flagship space; an island bar immediately recognisable and boasting overhanging illuminated brass shelves filled with rows of spirits and liqueurs, with indoor plants hanging from different levels.
Palm trees and lush greenery frame the rousing space, softening the otherwise industrial-like rough plaster-rendered walls and exposed painted brick. The palm-heavy tropical theme continues with an unforgettable wall mural from French artist Tiphaine Sartini.
Woven rattan ceiling panels, hexagon terracotta floor tiles, hanging lamps and an eclectic collection of mid-century modern and vintage furniture—along with rattan-framed sofas reminiscent of 1950s Singapore—add a Parisian touch as per the client's brief; a corner dining patio opens onto the shopping district, garnering attention of passers-by and offering diners views over the Royal Thai Embassy.
If you're popping in for coffee, wine, sweet treats or that photo for Instagram, team Merci Marcel have gone and done it again.