'I'm gonna send him to outta space to find another race.' I don't know what an iron shirt is, but Max Romeo was donning one as he and his Upsetters chased the devil outta Ert. The 1976 reggae track was immortalised into popular culture when those cheeky chappies from Braintree, Essex, sampled it on their 1992 ditty, Out of Space. And, frankly, it's still the only solitary thing that pops into my head when I think of space. I'm not much one for science fiction, me.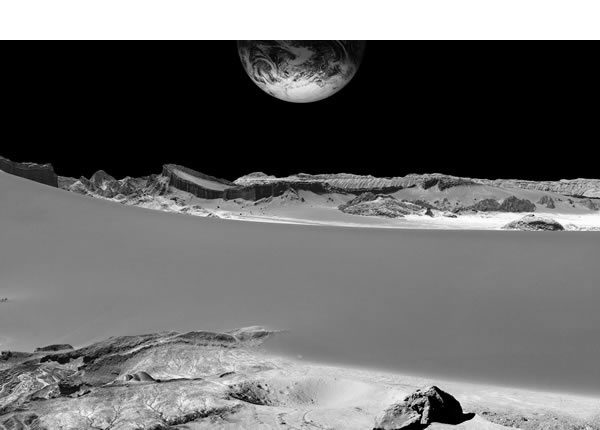 Michael Najjar clearly grew with an extra terrestrial influence outside of early '90s rave — the German photo and video artist is scheduled to be the first civilian artist in space. Busy in training (Najjar has been undertaking an intensive, multistage cosmonaut programme in Star City, Russia, since 2012), the artist will be blasted by Branson's Virgin Galactic into orbit aboard SpaceShipTwo, and his astronaut schooling is now his artistic muse; Michael currently showing his outer space series in New York.
Zero-g flight; centrifuge training; stratosphere flight; underwater space walks … Najjar's firsthand experience of training and technologies that are still entirely alien to all but a handful of the world's population allows him to craft images and video artwork that has never before been seen, or even attempted. The potential of man, and art, pushed to the limits, the German creating a body of work that is entirely original; in an age where originality in art is as rare a concept as propelling ordinary folk into space was when The Prodigy were hosting M25 raves.
Advancements in aeronautic technologies, and the tangible emergence of a space tourism industry, leave humanity on the brink of something that could change the way we address and comprehend everything as it is today. 'By leaving our home planet and flying to the moon or other planets, we change our understanding of who we are and where we come from," Najjar explains. 'The point is to reflect on our world and what it means to us and the generations to come after us. It's about the very origins of the self.'
outer space continues at Benrubi Gallery, New York, until 14 May.