Following on from the success of their Tiong Bahru neighbourhood eatery, restaurateurs Marie and Antoine Rouland have opened a second branch of Merci Marcel, this time on Club Street, a mecca for hip restaurants and watering holes in the heart of Singapore. Enlisting once again the expertise of HUI DESIGNS, who nailed a brief to 'create an unpretentious and cosy space', it's a place where diners can feel as comfortable as they would be dining at home with friends.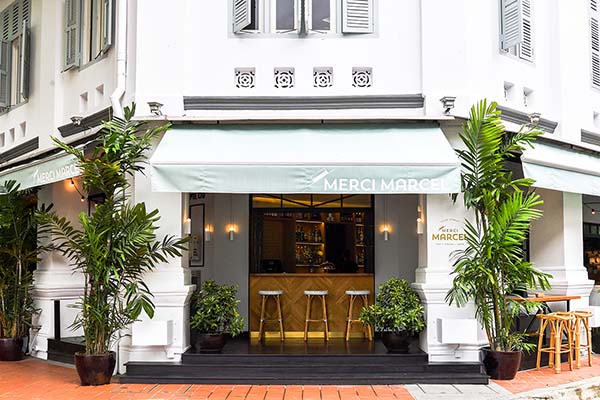 A brasserie/café/bar concept, Merci Marcel Club Street evokes the quintessence of Parisian chic brought together with the urban bar-cum-restaurant scene that's become synonymous with its locale's ongoing revival—the Chinatown street now home to some of the city's hottest dining enclaves.
The façade of the old building features redesigned French doors and windows topped with cathedral-style arches, inside graceful archways, terrazzo flooring, distressed walls, and art add to the homely look; as do potted plants, hidden spaces, and suspended lighting. Like the Tiong Bahru locale, cane furniture is used in the form of Cesca-inspired chairs—originally designed by Marcel Breuer—and make the most wonderfully comfortable spots from which to enjoy a menu that's made up of healthy salads, fresh fish and seafood, French breads, pastries and organic eggs. (The Croque Marcel with organic Bayonne ham, fried egg, and French Morbier cheese making us drool just thinking about getting our lips around one.)
Merci Merci Me.