Singapore is home to Merci Marcel, a French brasserie that draws inspiration from the unpretentious restaurants in Paris's Le Marais and Montmartre. Occupying an old shophouse in the charming neighbourhood of Tiong Bahru — a 'hip' neighbourhood with an an eclectic choice of cafés, restaurants, bars, and independent shops — Merci Marcel boasts a definite air of Parisian chic without forgetting its Southeast Asia rooting.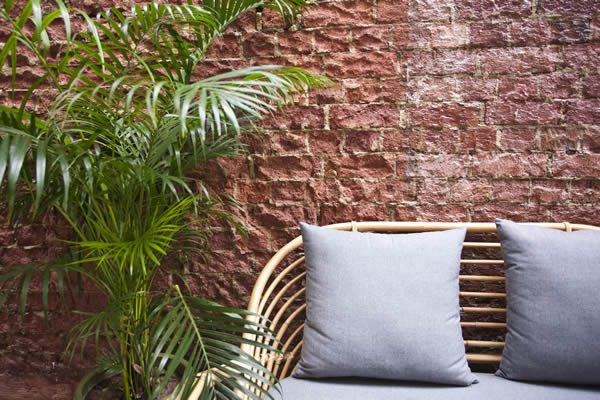 Designed by Lim Siew Hui of Hui Designs, who is quite the fan of all things French herself, Merci Marcel bares a citrus-toned palette, exposed rustic white-washed walls, and a mustard yellow and white diamond shaped tiled floor. A long bar hugs the main dining area, the addition of an antique mirror adding the illusion of extra space; sleek pendants hanging above add intimate yet ample lighting.
Ratan dining chairs and bar stools are interspersed with vintage pieces and French characteristics. The owners personally chose cushion fabrics by La Maison Manuel Canovas, their signature pop art patterns reinterpreting the classic French pattern Toile de Jouy. All throughout the space, diners can sit amongst lush greenery — especially so in the courtyard, where Hui sought to replace the original roof with a skylight that allows natural light to penetrate the wonderful, calming space; its ambience and appeal heightened.
Whether popping in for a coffee, brunch, a lingering lunch, or full-blown dinner complete with farmhouse cheeses directly sourced from artisan producers in Europe, diners at Merci Marcel can sit back, share, slurp, and saveur.