The unveiling of the Ace Hotel in Shoreditch in 2013 marked a pivotal point in the neighbourhood's history. It cemented the locale's developmental direction and its expansion into one of the most sought-after hospitality and business hotspots in London.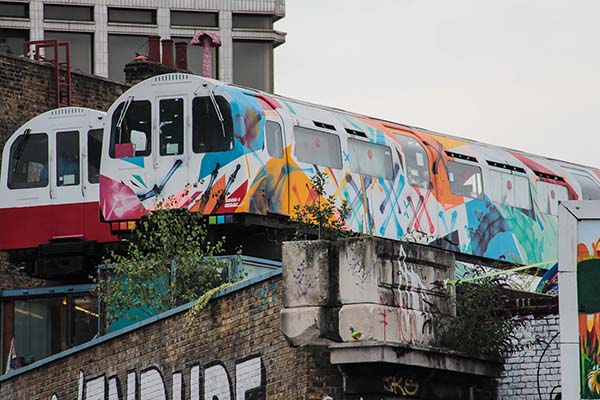 Those who had previously shied away from Shoreditch embarked in droves, and the area diversified; artists mingled with city slickers and tech-types in restaurants and bars never before seen in the vicinity. Shoreditch was ripe for the taking, and the offering got fancier; better looking and more affluent. Offices and studios got sleeker, the streets—such as Redchurch Street—no longer hosted pop-up art shows in vacant shops, instead developers moved in high-end boutiques, members' bars and fashion retailers.
Roll on six years and, although the area has changed, the Ace Hotel hasn't all that much. It continues to be more than just a hotel, offering guests, workers, ravers and everyone in between a place to hang out, to work and to meet. Each morning, noon and night, the communal lobby-bar-café areas are filled with 90% non-guests. These local dwellers sit under muted lights tapping away at keyboards, sipping green tea and doing all from discussing Brexit or celebrating a birthday. It's a mixed bag of energy.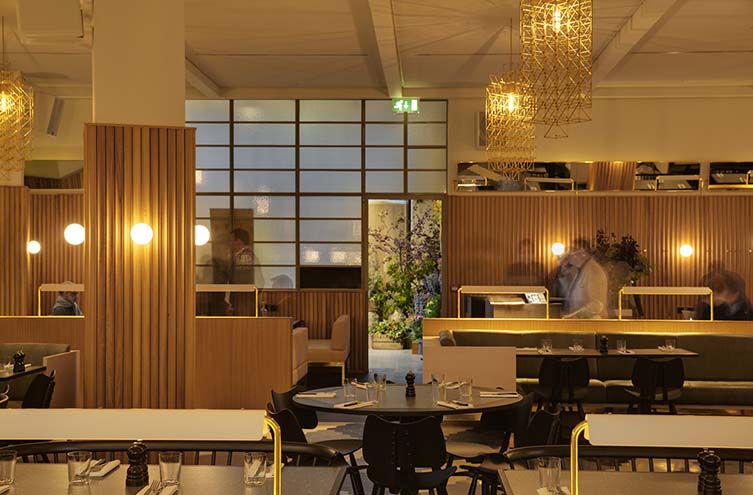 The pull for the Ace locally is its cultural programme. It's prolific. And, from regular club-nights to free Friday night sessions in the Lobby Bar, the Ace continues to be a magnet for people who love culture, music, and all that Shoreditch has to offer. It's hard to call it a 'hotel', and even though it is, as it feels more like a multi-purpose space with a sizeable number of rooms.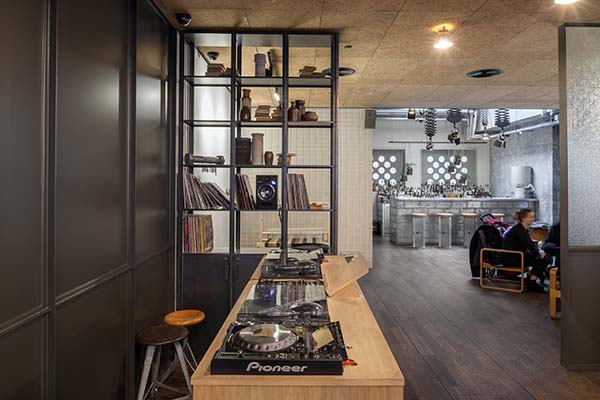 Hoi Polloi, the in-house restaurant, even hosts a stringed quartet at the weekend for diners to enjoy. The people in charge know what their audience wants, and work hard to keep them there. There's a roof terrace for hire and ad-hoc party nights, and Miranda, the in-house basement music venue also doubles up as an experimental art space.
Design is obviously another pull for the countless guests who have graced the building over the years. The overall vibe starts with the lighting. Throughout, there's an overwhelming sense of 'what time is it?' It's a kind of vacuum where time appears to stand still, even though there are windows and there's plenty of life around. You can never quite tell where the big or little hands are pointing in the perpetually muted zone. The darkness, however, is only aesthetic, and the place is buzzing with people, with voices, music and life.
London-based Universal Design Studio was responsible for the architecture and interior design of the building. The communal spaces include low seating, muted fabrics, a long light wood library-like table that spans a glass-fronted wall. Features include Crittall windows and doors; industrial grids; cast bronze; galvanised steel; and waxed finishes. Although everything is calmly muted and open plan, there is still a sense of intimacy and warmth.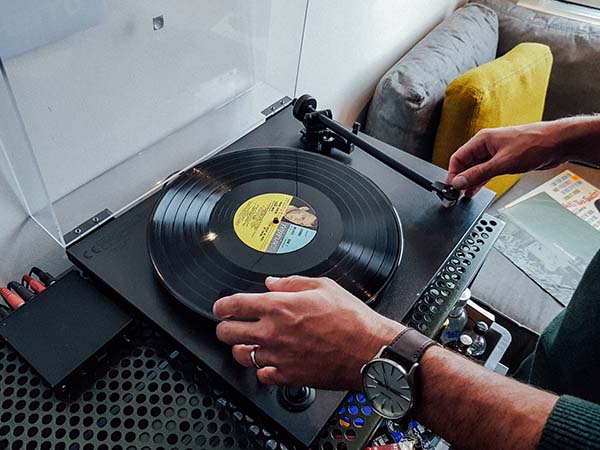 The deluxe double comes with Rega RP1 turntables and a selection of records that you're instantly drawn to. The views from the windows are best experienced on the wall-to-wall day bed while you contemplate the well-stocked minibar (but when you see the price list, you instantly resign). In fact, everything has a price tag in the room; even the iron will cost you a cool £60 should you wish to slip it in your bag.
And there are touches of humour throughout, even the no smoking sign will make you chuckle. The rooms are, again, muted; it's impossible to gain real perspective, so you sink deep into the large bed and consider your next move. The room feels intentionally budget, the first impression is that of a green room or staff room, it's thought out of course, but feels low-key, leisurely and has that familiar echo of hipness.
The atmosphere at the Ace has remained cool and friendly, and staff are non-sickly cheerful, multilingual and approachable. It hasn't outgrown itself or aged a bit. At the weekends, there is no doubt that you're in a party hotel, but the vibe is positive and less pretentious than many. Which is perhaps the secret to its success.
Laidback and likeable, the original hip hotel brand feels as at home in this hip 'hood as it did six years ago on the cusp of this neighbourhood's dramatic change, and you feel it will be its cornerstone for decades to come. We put on another record and stretch back out on that day bed. Why leave? We're already in the beating heart of Shoreditch.