It's the pockets of anti-capitalism; anti-austerity; anti-toffs-taking-us-all-for-a-fucking-ride remaining in London that give us hope for a future where people matter over pound. One 'hood taking things literally is an area of London that holds a long-fractured history with the capital's capitalist core. Brixton. A district with a history of sticking two fingers up to Westminster; positively and negatively.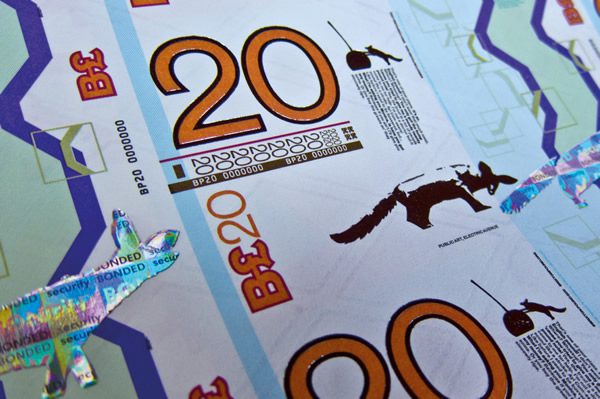 A fuck you to overt gentrification that's been nothing but positive since its launch five years ago is the Brixton Pound — a new breed of currency that keeps things local; supporting indie businesses, traders and the community at large. And, celebrating that half a decade of trade, everyone's favourite custodian of realist British values — Turner Prize-winning artist Jeremy Deller — has designed the all-new B£5. Bringing an air of acid-tab-art to the table.
Designed in collaboration with Fraser Muggeridge studio, Deller's note design is overseen by This Ain't Rock'n'Roll (who led a major redesign of the currency in 2011). TARR's Charlie Waterhouse is, to say the least, keen on the artist's work: "These are the most amazing currency notes ever produced. No exaggeration. They're beautiful and mysterious; spiritual and politicising. In two small sides of paper it provides the most compelling response to the rot that emanates from the Square Mile that I've seen since we were all told we had to live under the yoke of Austerity".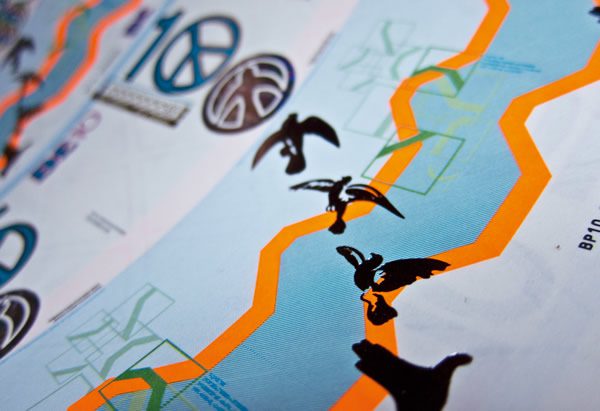 "They're living proof that while the Establishment can try all they might to take our money, they can't take our spirit. The pounds Sterling in our pockets are monochrome, dull and in thrall to history and hierarchy – designed to remind us that 'our' money isn't really ours at all. Brixton Pounds are the exact opposite. Joyous and empowering, they remind us that we can all make positive decisions about our spending, and make a real difference to the community around us. They're wonderful invites to us all to step into a better future."
Could I put it more succinctly than that? No. Suffice to say that a Brit-art powerhouse's contribution to the cause can only help solidify the community's message. In a time where the British government are propelling a take-take-take onslaught on its people — Brixton Pound is offering a give-give-give solution. Money is not the root of all evil, that's the bastards who control it.
Via: Creative Review
@BrixtonPound
@thisaintrock
@jeremydeller