Fans of iconic Japanese-Peruvian cuisine and haute luxury rejoice. Following a two year hiatus, the pandemic halting many travel-related activities for a large chunk of this time, Nobu Barcelona eventually reopened the doors to its 259-room luxury hotel and distinguished eponymous restaurant in February this year.
Designed by award-winning architecture and design studio, Rockwell Group, the hotel blends Spanish design with Japanese tradition, taking diverse inspiration from Antoni Gaudí's mosaics in Park Güell as well as Kintsugi, the Japanese art of repairing broken pottery by mending the areas of breakage with lacquer dusted or mixed with powdered gold, silver or platinum.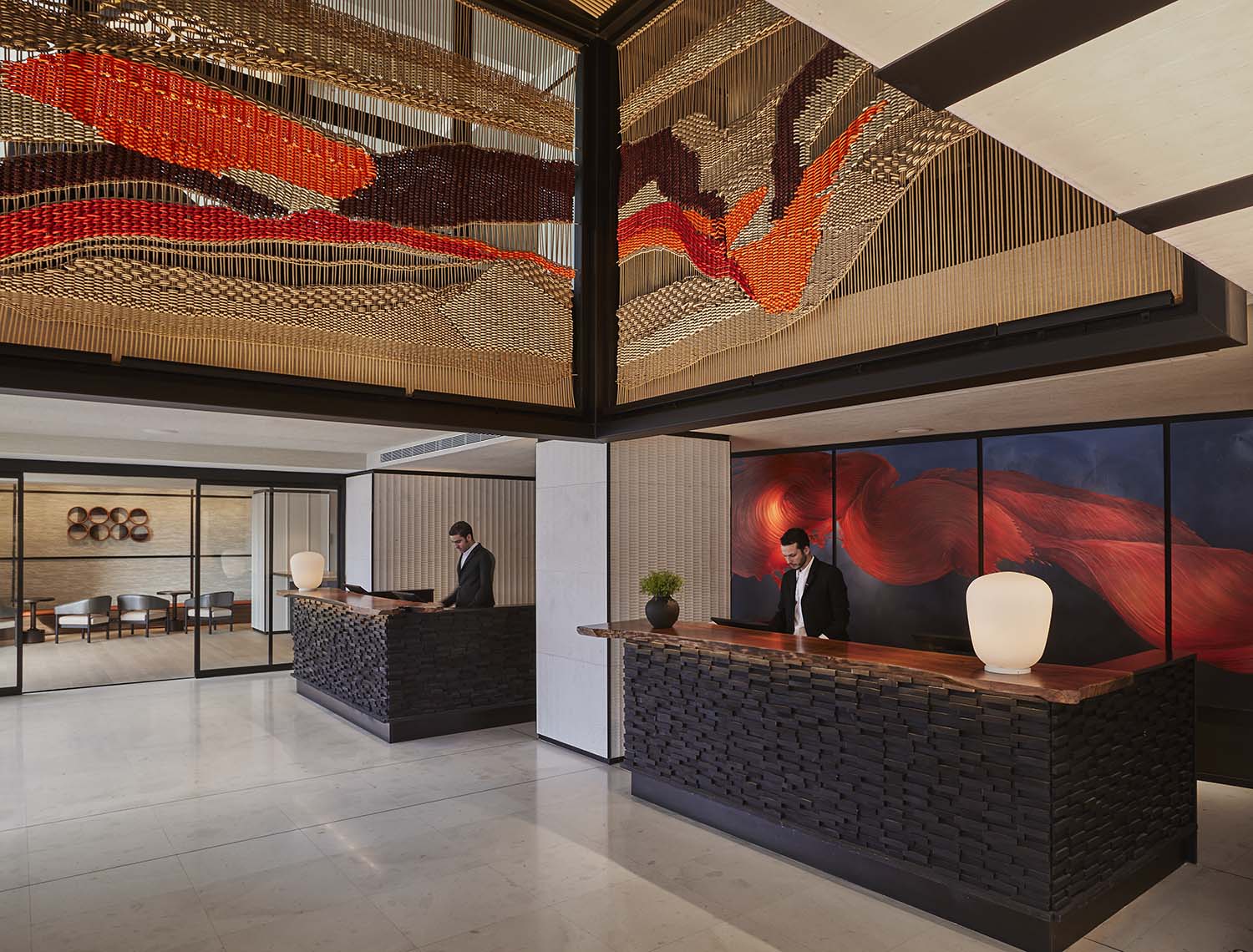 Located in the Catalan capital's eclectic Sants neighbourhood, the hotel is situated in the former Gran Hotel Torre de Catalunya and can be identified by a beguiling abstraction of Shinto gates that embrace the entrance in the form of a bright orange, woven screen, and that continues inside to serve as a link between the outside and in. Once inside, the soothing lobby features textured limestone and wood, alongside large scale artworks and a striking statement staircase that connects the ground floor with stylish meeting rooms and a ballroom.
Elevators are clad in beautiful three-dimensional walnut and gold tiled artworks by Giles Miller Studio, and open onto guest hallways embellished with a saturated gradient of green to blue wallcovering. A large, continuous brushstroke on the carpet guides guests to rooms and suites where natural materials meet Japanese influences with an emphasis on the natural world. Whilst 'Deluxe' and 'Premium' rooms are located on lower floors, it's the 'Skyline' rooms and suites——starting from the 12th floor——that provide some seriously impressive vistas of this densely populated city.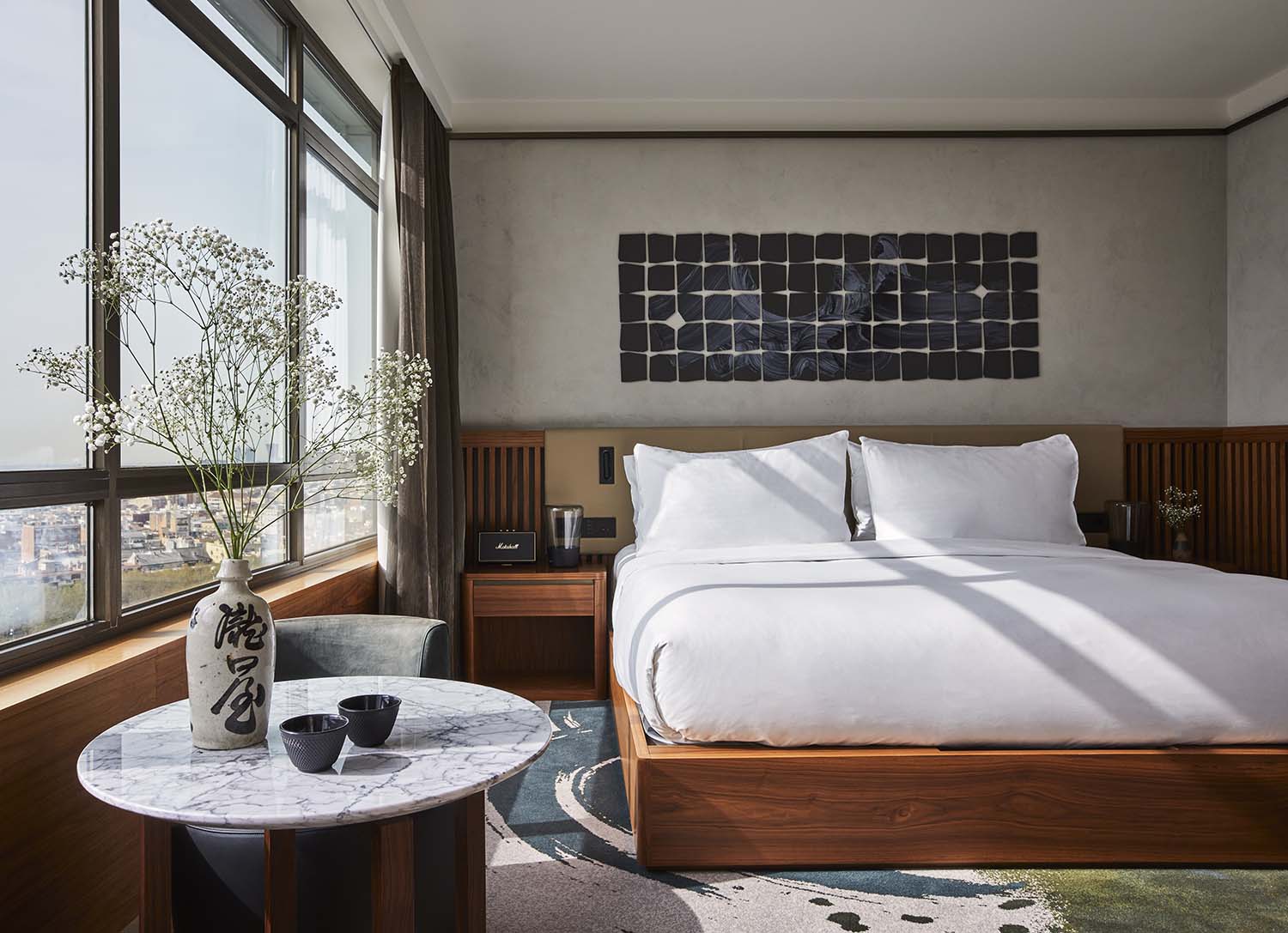 The 'Sake', 'Umi' and 'Nobu' suites are the real showstoppers, complete with soundproof, floor-to-ceiling windows, 65-inch LCD TVs, King size beds, Marshall Bluetooth speakers and marble bathrooms with rainfall showers and (for those looking for peak decadence) Onsen soaking tubs. If you can drag yourself out of the huge wooden bath, expect Yukata bathrobes to ensconce in afterwards.
In guest rooms, a millwork wall with geometric bronze framing is home to a wardrobe, TV, bar and desk. Bronze detailing defines the area around the bed, which has a wood and leather headboard and footer. Custom plaster art pieces hang above the headboards in a signature Nobu 'swoosh' pattern. Suites feature a separate living area with sofas perched on top of plinths and millwork in saturated lacquer colours, whilst bathrooms have the essence of being at one with nature via the use of slab stone and cedar wood. Spacious and luxurious, contemporary and minimal, Rockwell's meticulous attention to detail redefines the tired archetype of an 'urban oasis'.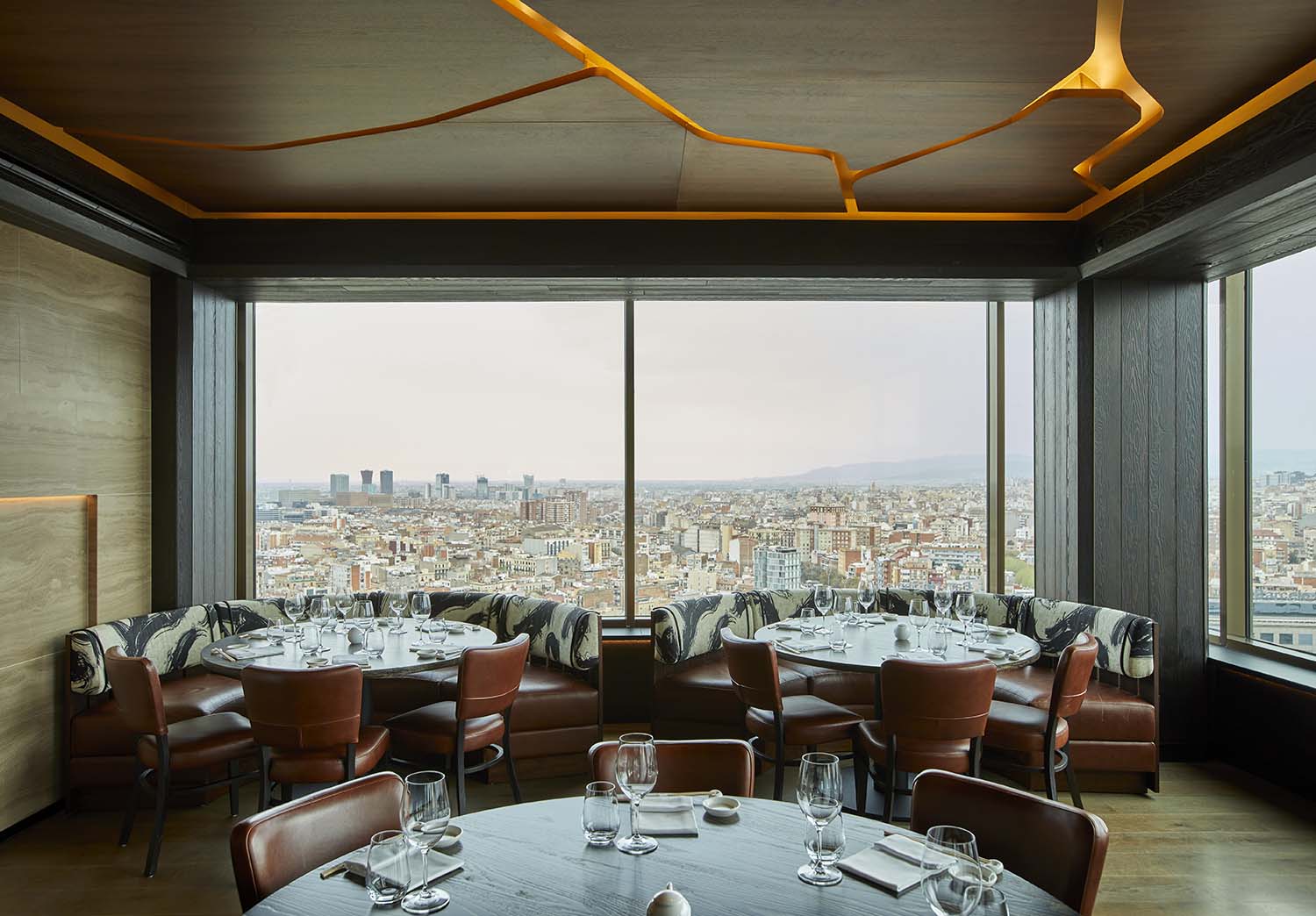 Whilst Kozara, the hotel's 'casual' bar and restaurant, serves tapas and sharing plates just off the lobby, it is Chef Nobu Matsuhisa's culinary powerhouse that attracts guests and locals (including some famous faces) to this part of town. Opening Matsuhisa in Beverly Hills in 1987, before joining forces with Robert De Niro, Drew Nieporent and Meir Teper to create Nobu in 1994, the Japanese chef's empire now consists of 50 restaurants across the globe. Barcelona's own Nobu is situated on the hotel's 23rd floor with expansive windows offering panoramic views over the city. The Sagrada Família, the glistening Mediterranean, Camp Nou, the old and the new, the surrounding mountains; this is an unrivalled vista in a city of staggering views.
Showcasing Chef's iconic menu inspired by his classical training in Tokyo and travels through South America, signatures such as Black Cod with Miso and Yellowtail with Jalapeño are created, where possible, with local produce; the inventive menu a celebration of tradition, flavours and the vigour of this idiosyncratic city. Arrive before nightfall to catch the sun dropping behind Tibidabo, the highest peak in the Serra de Collserola mountain range, and witness how the lighting and ambience transition from day to night thanks to Rockwell Group's kintsugi-inspired ceiling, with suspended live-edge walnut panels and spectacular golden 'cracks'.
Its location across the road from Barcelona's main railway station may have meant this hotel would be overlooked as another 'business hotel', however with Rockwell Group's finesse and detail to design; the undeniable lure of the world-famous Nobu moniker; a stress-busting spa with treatment rooms, steam room, sauna and plunge pool; friendly service and stellar amenities, Nobu Barcelona is a very special addition to the city's hospitality scene. Irasshaimase!