With a menu that consists of Vietnamese street food sharing plates and exotic cocktails, the focus at Montreal restaurant Le Red Tiger is firmly fixed on quality, originality, and some very nice design.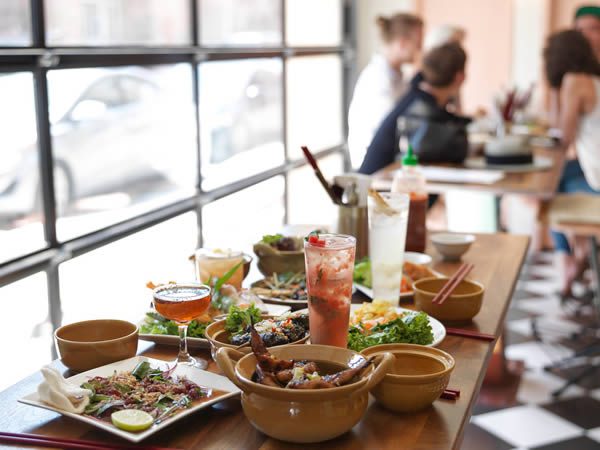 Drawing inspiration from the architecture of Southeast-Asia — namely the Chinese imperialist days, French colonial and post-colonial eras — designer Guillaume Ménard of Atelier Mainor looked beyond your average run-of-the-mill 'modern' restaurants, instead exploring a rural and traditional side that has resulted in three distinct styles from three distinct chapters in Vietnam's history.
During summer months, Le Red Tiger opens up its wide garage doors — revealing an eye-catching black and white chequered floor that contrasts with the establishment's main shades of brown and yellow. A neon sign reading Càng dông càng vui (a Vietnamese proverb equivalent to the Anglo-Saxon proverb: the more the merrier) sits above the bar in front of the open kitchen, and bespoke furniture — including a set of nine-feet tables resting on single one-foot stands — adds character to the place; alongside family photographs for a veritable stamp of authenticity. A brilliant piece in the entryway by mural artist and illustrator Aless Mc brings an urban edge and sense of playfulness.
Personal, fun, and taking a nice sidestep from cookie-cutter modern interiors, Le Red Tiger feels like the genuine article; an interesting addition to Montreal's culinary landscape.