Situated on the enviable Laguna Beach coastline, Hotel Joaquin is a 22-room property by Auric Road—lifestyle curators of petite resorts—and may just be the most stylish former roadside motel rebirth to date.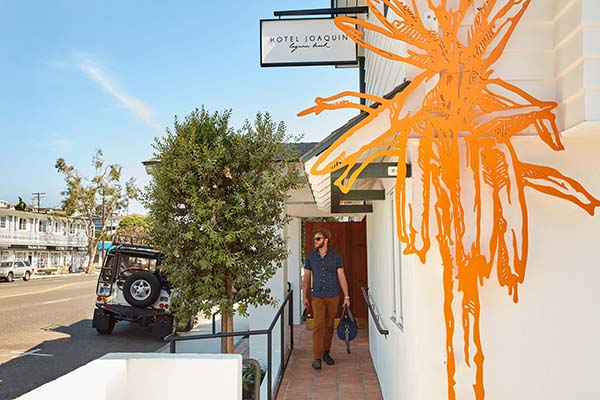 Its knock-out design having been put together by Studio Robert McKinley, Hotel Joaquin is a sophisticated and modish sanctuary where adventure, relaxation and experience go hand-in-hand. Nodding to Auric Road's ethos of 'soul is our style', the "petite resort" is chic and playful whilst respecting the heritage of Laguna Beach; paying homage to the equable elegance of the Californian coastline.
Layered décor forms the hallmark of this hotel which is hidden in plain sight above Shaw's Cove along the Pacific's rich coastline, begging guests to immerse themselves in local adventure whilst disconnecting from the pressures of the modern world. Individually-designed rooms feature vintage pieces, custom-made furniture and curated artwork. A neutral colour palette and the use of natural materials are employed to evoke calmness; Laguna Beach's Hotel Joaquin a place to unwind and renew the soul.
A private beach oasis, the resort offers a personalised service and laidback luxury. Enjoying a year-round mild climate, guests can cool down in the hotel's swimming pool and indulge in the slew of beachside and water activities on offer nearby. Open for breakfast, lunch, dinner and drinks, restaurant Saline takes the design motel's guests on a Mediterranean culinary journey that is sea-centric; fresh and inspired by the tenor of its salty backyard, with chef Leo Bongarra creating sharable plates inspired by European flavours complemented by local ingredients.
A former motel designed for short stopovers by those taking to the open road, Hotel Joaquin is now a destination travellers won't want to leave. With impeccable design and a laidback spirit, Orange County's Laguna Beach just got a whole lot more appealing.