Three stages across three nights; some of the world's leading design talent sharing their secrets; installations and live-artwork; and a market that will elevate your senses with games, craft beers, street food—and a whopping great big shiny disco ball—means only one thing: Us By Night, the nocturnal design conference cum festival, is almost upon us, set once more to tip Antwerp's axis into a full-on creative spin.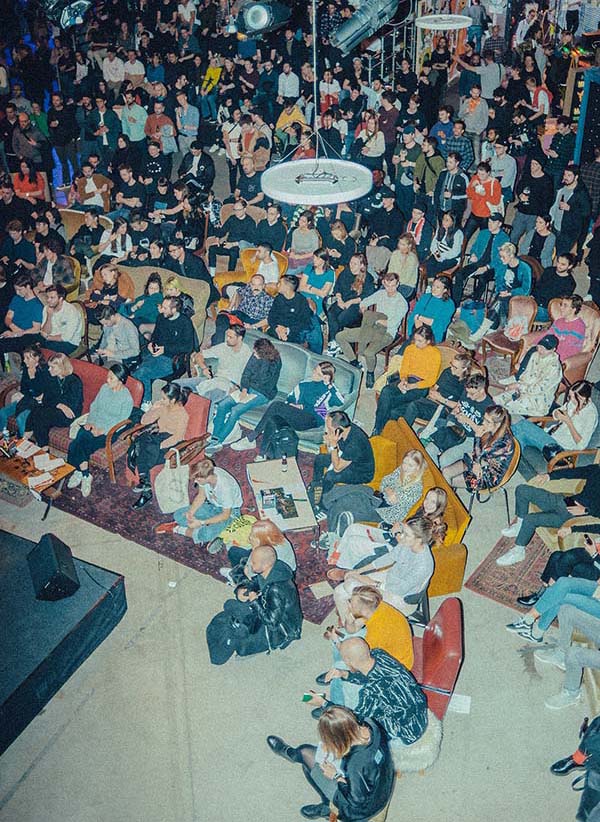 With keynotes this year coming from the esteemed likes of Camille Walala, known for her riot of colour and bold patterns; Chuck Anderson, founder of NoPattern and the man behind one of the world's most ripped-off images; Kelly Anna, creator of last year's UBN live mural and an artist who's worked with the likes of Nike, Stella McCartney and Refinery 29; and Tim Van Helsdingen, a 3D generalist specialised in FX, visitors will be inspired by a diverse mix of disciplines and experience heading up the stages with stories, lessons, tutorials and general missives.
With a new venue (the riverside Waagnatie Expo & Events home to the 2019 edition) and a new date (the creative festival moved from November to September), revellers will be able to enjoy lighter nights and warmer weather as Us By Night bring some of their already infamous magic outdoors at only their fourth edition. What's more, it gives those travelling from afar the opportunity to experience Antwerp at a considerably more enjoyable time of the year, Autumn having only just begun and the city's cultural calendar gearing back up after a lazy summer.
Situated on the River Scheldt, the Belgian city—which lies only 40 kilometres north of Brussels, and is easily accessed from Amsterdam, Paris and London—is not only the second biggest port in Europe but, in our opinion, is one of the world's coolest cultural playgrounds. Over 170 nationalities call the city home, with an eclectic fusion of bars, restaurants, coffee shops, boutiques, museums, galleries … we could go on … and a notable reputation in fashion, design and architecture, Antwerp is where creatives go to seek inspiration, find it and then settle, continuing the cycle for others.
With more than 18,000 creatives working in over 8,000 enterprises, the city is a true international hub for creativity. Embracing heritage and innovation, business, leisure and global ambitions, it's where that myriad of nationalities can come together and live a high quality of life. A weekend at Us By Night has more than just a brilliant creative festival to offer; time spent in Antwerp is always time well spent.
Taking place at Waagnatie, Antwerp, between 26—28 September, there's just a few tickets left for the global creative community's new favourite fun-time destination. Pick up yours today.