Pedestrians going about their business in the city centre of Karlsruhe in Germany this summer can be forgiven for wondering if their eyes were playing tricks on them. Amid the usual dust and noise of a building site in Marktplatz, a most extraordinary sight could be observed, as a crane lifted not the usual construction materials and containers but an entire house clean out of the ground — roots and all.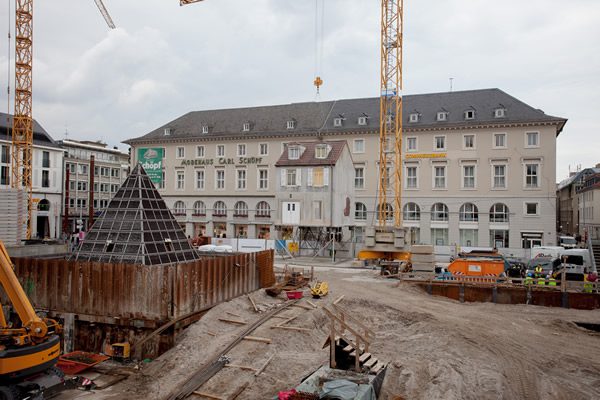 The spectacular stunt was the work of Argentinian artist Leandro Erlich; Pulled by the Roots was one of a number of ongoing events being staged in the south-western city to mark the anniversary of its founding in 1715. Erlich's transplanted house isn't the only artwork to play with the public's expectations on themes of construction and man-made disruption.
Erwin Wurm's sculpture Truck causes passers-by to wonder what strange sequence of events had caused his lorry to finish up bent with its rear wheels on the horizontal wall of a building. Had it reversed too quickly and bent by accident, or was it employing some new futuristic mechanism for negotiating tight urban spaces?
Car Building, by Hans Hollein, also presents an automotive conundrum, this time inviting viewers to make sense of a stack of VW Beetles. Looking at things from a human point of view, Shin Seung Back and Kim Yong Hun donned their Aposematic Jacket — equipped with numerous webcams — to wander the city and document how the public are affected by construction. Elsewhere Johan Lorbeer has been confusing people with his half-hourly performance piece Tarzan/Pillar, in which he appears to be suspended in mid-air while leaning against a shipping container.
Presented by ZKM Karlsruhe, The City is the Star – Art at the Construction Site continues in Karlsruhe until 27 September.