Textile design graduate, Camille Walala, has come a long way since founding her eponymous studio and brand in East London, 2009. From textile-based work to art direction, the scale has been escalating for the French artist and designer, her work—a riot of colour and geometric form inspired by the Memphis movement; the Ndebele tribe; and op-art icon Victor Vasarely—finding its way onto pedestrian crossings, interiors, and towering walls. With clients from Nike to Nintendo, her latest work is a gesamtkunstwerk that brings signature vibrancy to a significant new hotel project in Mauritius.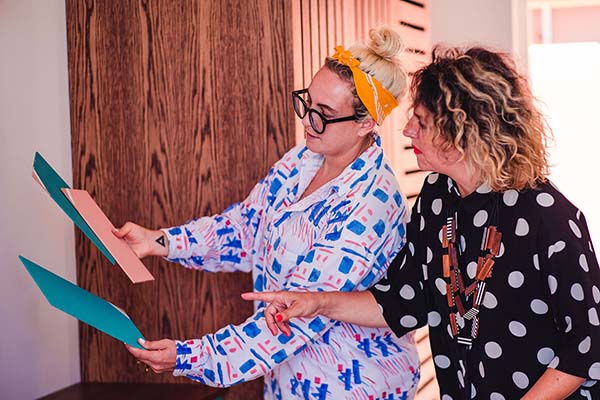 "I was blown away with how many vibrant and bold colours you find around the island," explains Walala, who—alongside collaborator Julia Jomaa—sought inspiration from Mauritius itself. "People paint their houses in the most amazing tones that really stand out against the lush tropical setting. From the emerald green of the plants to the ever-changing colours of the sky, I wanted to marry these warm natural tones to my signature pop colours."
The result of this island-wide recce is an immersive interiors project for SALT of Palmar, the first in a new brand of hotels that holds sustainability and local community close to its heart. Occupying a riad-esque property originally created in 2005 by renowned Mauritian architect Maurice Giraud, Walala has worked closely with Mauritian architect John-François Adams to realise her vision for SALT's 59 rooms and expansive public areas; her pulsating mood boards translated into resonant reality. Tapping into Adams's local knowledge, the team have also collaborated extensively with Mauritian artisans and craftspeople on bespoke pieces for a hotel project that goes in hard against convention.
"What was different for me this time is the sheer quantity of things to take into consideration when designing," the London-based designer continues, "not only do colours and pattern have to complement each other, but fabrics, textures, surfaces, light, functionality and moods are also critically important to consider. In addition, Mauritius is a remote country, and although the selection of products and materials is wide, I had to think of many alternatives to things that I would have loved to use in the styling and build. Because SALT is by the sea and under a strong sun, we had to work with materials which could not be damaged by wind, heat, water or light. However, I did grow to enjoy the challenge of finding alternatives in the local area—that, after all, is what the SALT philosophy is all about."
An all-consuming project that grips you as soon as you walk through its doors, SALT have confirmed their status as game-changers with Walala's singular appeal; her show-stopping motifs expressing the island's character in a hotel that looks—and acts—quite unlike any other.