The inimitable Mr. Bingo; multidisciplinary surrealist, Emily Forgot; top L.A.- and London-based design studio ManvsMachine; the supremely talented German art director, Mirko Borsche; New York-based visual artist Shantell Martin. Just five of the first names that have been released for this year's Us By Night festival.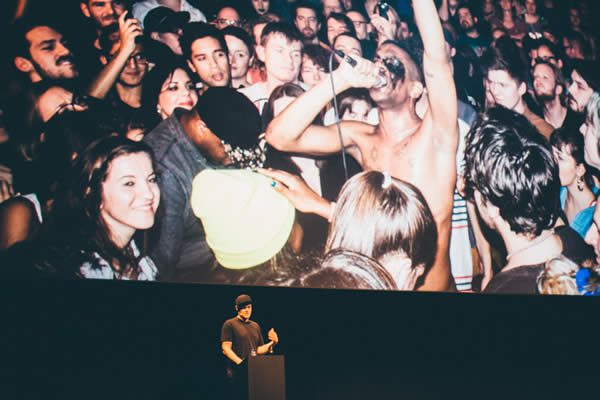 Following two successful editions, the Antwerp design and creativity festival returns this November, occupying the city's Parkloods complex with its singular dystopian playground; the doors of the former train warehouse opening at 4pm, and the final speaker taking to the stage at 11pm in what is a creativity festival for design obsessed nightcrawlers.
"The social aspect is the key factor," founder Rizon Parein told us last year of its nighttime skew, "in all honesty when we visit design conferences most of us see a third of the keynotes, the rest of the time we hang out with friends from abroad, connect with fellow artists, have beers and laughs together, and share memorable moments. This community feeling is for me as important as what is happening on stage … it doesn't have to be that complicated, but you do have to facilitate it; and that's exactly what we are doing."
Street food and video games, ping pong and art market, leading creatives from the entire spectrum of creative industries, Us By Night puts a feel-good spin on design conferences and lets it all play out in a cavernous space filled to the brim with installations and interventions. With names like Dot Lung, United Visual Artists, Moniker, Bráulio Amado, Bozarthfornell Architects, and Eric Hu joining the part this year—and plenty more big hitters still to be announced—the Antwerp festival's 2018 edition looks set to build on the fledgling event's already sizeable reputation.
Us By Night returns to Antwerp 22—24 November; early bird tickets are available now.