Following the tragic earthquake that hit the island of Lombok, Indonesia, on 5 August 2018—a disaster that created widespread damage and, owing to a succession of further earthquakes throughout the month, a loss of 563 lives—countless survivors lost their homes, businesses their offices and children their schools.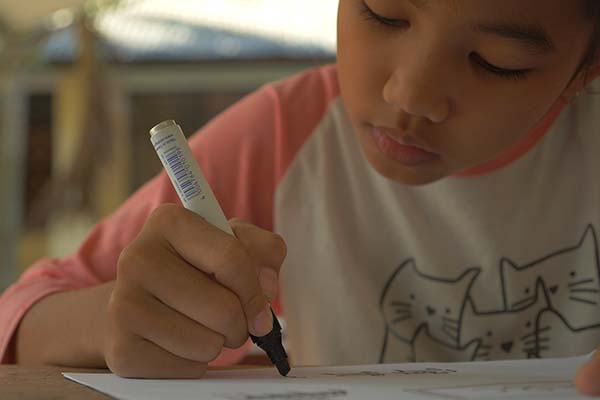 One such school, SDN 1 Senggigi, remains a pile of rubble, with students gathering for classes inside a tent underneath the intense sun, making for pretty dire conditions and hampering the children's ability to move on from the traumatic experiences already caused by an earthquake of such magnitude.
In a bid to rebuild their elementary school and their lives, nine pupils decided to take action via the power of art, the children setting about creating drawings of the places they love the most, despite the fact that many of these wait to be rebuilt or renovated. On hand to help their plight, Dutch charity, the Face This foundation, took the kids' drawings to the studios of nine international and renowned artists—including We Heart favourites Jon Burgerman, Mike Perry and Supermundane—who would collaborate on a range of T-shirts ready to be shipped worldwide. Sold for 29,95€, the proceeds from sales will be used to renovate the school.
From Burgerman's doodles to Perry's colourful dreamscapes—the Emmy-winning artist using a drawing made by eight-year-old Lombok resident Shafa—and Supermundane's bold lettering, the line of T-shirts are both refreshing and inspiring. Also collaborating on this great initiative were artists Tyler Spangler, Bodil Jane, Mark Conlan, Hedof, Kyle Steed and Jamie Browne; with all pieces are available to buy online at facethis.org now.