One of the downsides of modern highrises replacing older architecture is the loss of suitable surfaces for urban artists to do their thing on. This issue is being felt particularly keenly in Brooklyn — traditionally a popular playground for New York's graffitists but becoming ever more sterile as gentrification sweeps the borough.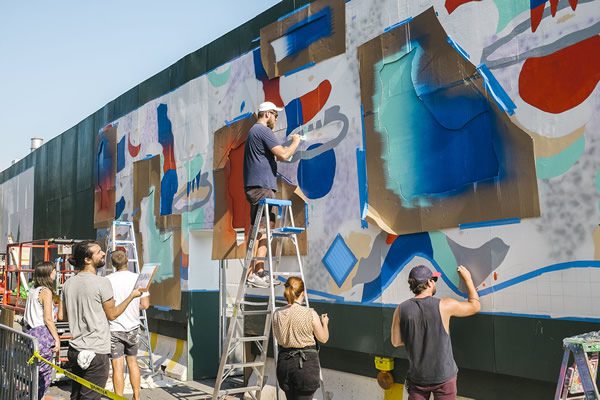 The imminent arrival of four massive new shiny glass buildings in the Pacific Park "megaproject" on Dean Street wouldn't, on paper at least, seem to be good news for fans of urban mural work, but the construction has brought with it one (albeit temporary) upside — an 820ft fence around the 22-acre site that was crying out for some decoration.
Multidisciplinary artist Mike Perry recruited nine local colleagues for his ambitious event, organised with urban developers Greenland Forest City Partners, which saw the 10 creatives produce one mural each in just one day, totally transforming the block between Carlton and Vanderbilt. The whopping buildings under construction should take quite a while to complete, which means the artworks will be brightening the neighbourhood for some time yet.
The full list of participants is: Mike Perry, Hisham Akira Bharoocha, Morgan Blair, Josh Cochran, Thomas Colligan, Archie Lee Coats, Jennifer Maravillas, Eddie Perrote, Naomi Reis and Edward Ubeira.