With 263 guest rooms and suites in a setting that feels like the Hollywood Hills of Sitges, a charming coastal town southwest of Barcelona, Dolce by Wyndham Sitges is a destination where Mediterranean flair blends with nature, the hotel blessed with unrivalled views of the azure sea and the beauty of the surrounding Garraf Natural Park.
Miami-based interior design studio, Rose Ink Workshop, were tasked with creating a new look for the much-loved hotel, the resort undergoing a recent refurbishment that has refashioned it into a destination that nods to its privileged location, as well as the 300-plus days of sunshine per year that the town of Sitges enjoys. The Mediterranean Sea, unmissable from virtual every vantage the hotel offers, inspires the colour palette and textures of the guest rooms and suites, along with the vast public spaces, restaurants, bars and wellness spa.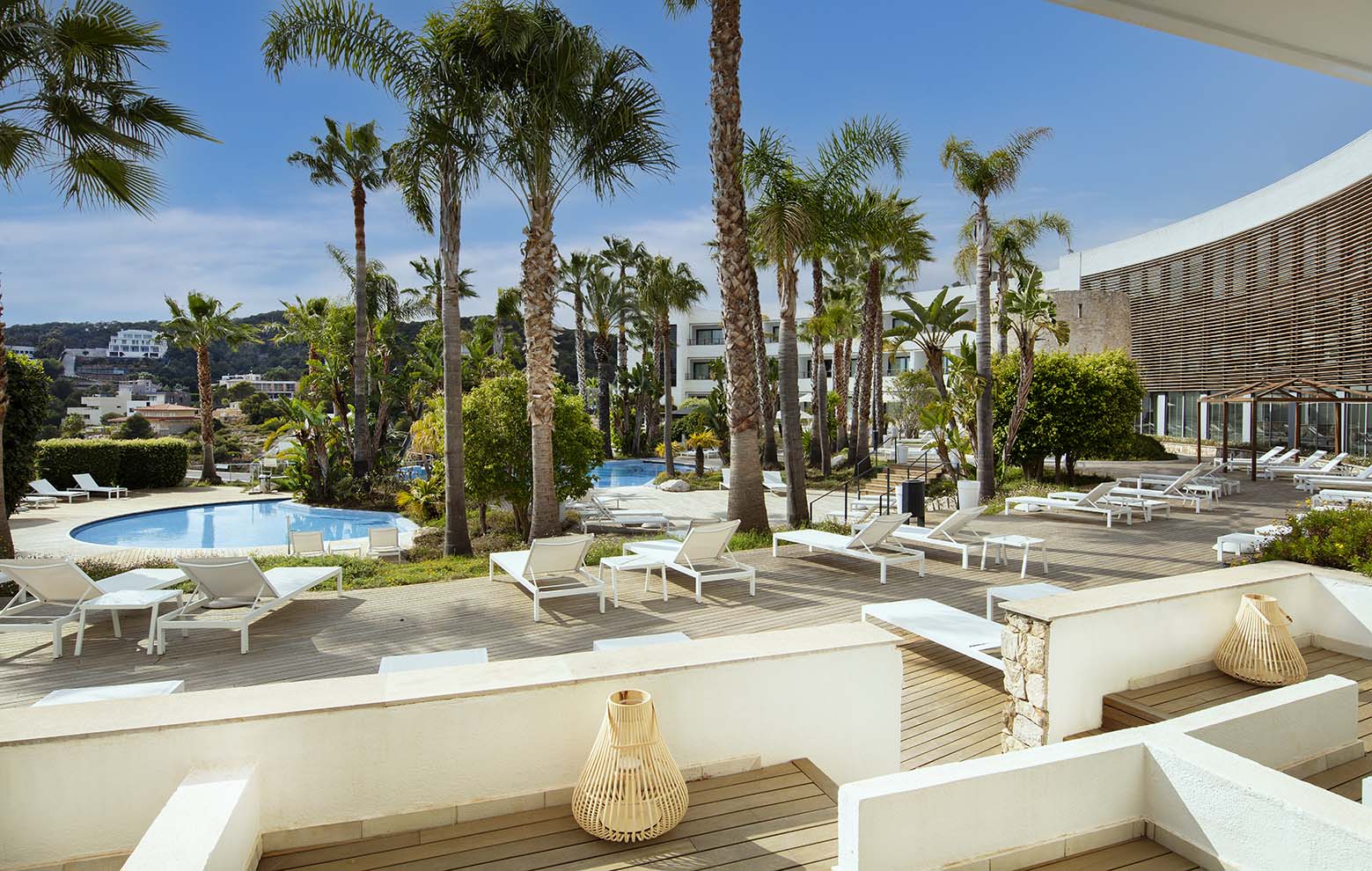 Constructed in the shape of the number '5', and thanks to its location set high up above the town, neighboured by exclusive homes and the Golf Terramar golf course, the hotel is six floors high yet rarely appears higher than three. The illusion makes for an expansive and open guest experience, whilst also giving the resort sustainability kudos in that the property does not cause a negative visual impact on the environment.
Sea views are in abundance at the Dolce Sitges, a very welcome addition for any hotel set back from the water. Bar Malvasia is the first public space you're likely to encounter, and is a wonderful, sophisticated spot to enjoy a cocktail with panoramic views of the beautiful golf course and Med beyond. With multiple sofas and chairs, modern art, and home to a games room with ping pong and pool tables, this is a place to disconnect from the stresses of everyday life.
Directly below the bar, guests will find Restaurant Verema, which is reached via a sculptural spiral staircase and serves breakfast, lunches and dinners for larger groups. Its extensive garden with Instagram-ready VW camper van is an idyllic spot for enjoying a coffee, reading a book, or working off breakfast.
Taking advantage of the 300 days of sunshine a year that this Mediterranean town 30 minutes from the Catalan capital enjoys, Dolce Sitges boasts four outdoor swimming pools. Surrounded by lush greenery and tropical plants, this paradisiac area is blessed with a cooling breeze and lashings of natural light. The Oasis Pool Bar serves up a range of tropical cocktails, smoothies and ice creams, as well as refreshing beers and local wines. With ample space to sunbathe and take restoring dips in your choice of pool, this is a difficult spot to pull oneself away from; unless, of course, that's to move to the property's new gastronomic offering, Restaurant Terrassa la Punta.
The chefs behind Dolce Sitges Barcelona believe that food is an exploration, this most apparent at this new gastronomic offering. With an unmatched open-air environment, the restaurant is home to an incredible panoramic terrace overlooking the Garraf Natural Park and here chef Jaume Balada has created a menu that pays tribute to local produce and the Mediterranean landscape. Fresh, flavoursome and seasonal, traditional dishes are cooked in a wood oven before being presented with a modern twist. Rice from the Delta del Ebro with monkfish; ECO Girona beef filet; or local catch of the day, this is a magical place to enjoy a lunch or a dinner. And, if you you opt for the latter, you'll witness an incredible sunset.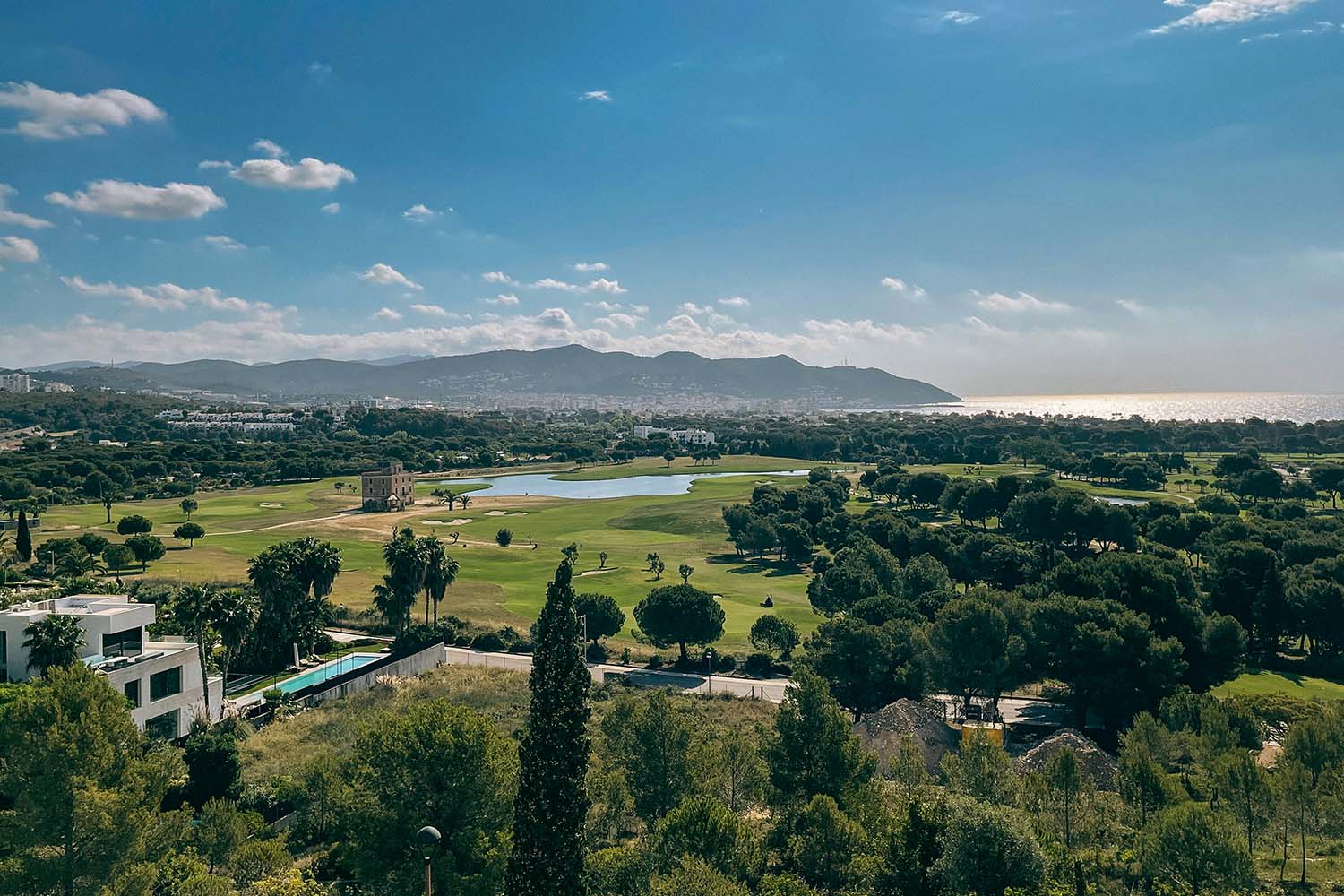 With Mediterranean life spent largely in the 'aire libre', Rose Ink Workshop have created a fluidity between the indoor and outdoor spaces. Guest rooms and suites are spacious, bright, filled with natural light and feature a colour palette of blues and whites. A combination of relaxation and work spaces, as well as details that include bathrobes and slippers, a coffee maker, a pillow menu and large terraces with sea views, all enable guest to disconnect and luxuriate in the privacy of their own room. A sanctuary with vistas of the town of Sitges and mountains of the Natural Park, you can forget the grind of day-to-day city life within the space of a few short hours.
The Dolce Vital Spa and vast meeting and conference areas complete the offering at Dolce by Wyndham Sitges, a luxurious resort that feels a world away from the bustle of the famous city just half an hour away. A place to disconnect and unwind, no matter how short your stay, for those looking for a relaxing escape close to the beating heart of the city, there are few more inspired choices.