Its been over four decades since the timelessly scary blockbuster Jaws petrified a generation of cinemagoers. The tagline, 'Don't go back into the water', held audiences in terror at the thought of an oversized great white man-killer on a bloodthirsty mission. Our fear of sharks surged with the movie's place in the pop culture cannon; and the great white became seared in our collective consciousness as a vicious predator.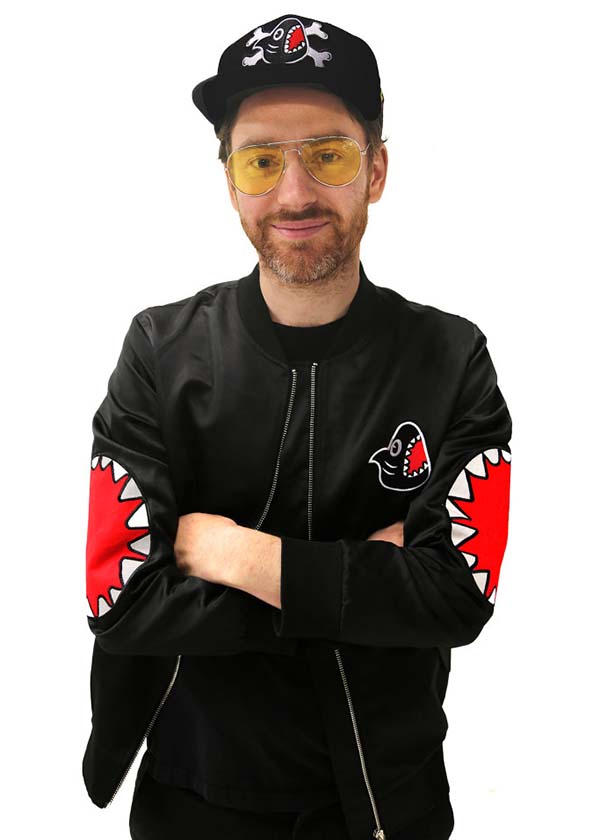 For this week only, Discovery Channel's Shark Week will celebrate its 30th year by delivering thrills for fans of all ages with seven days of dynamic programming around these much-maligned sea creatures. As part of its inventive roster of collaborations for 2018, Discovery Consumer Products—the licensing arm of Discovery Inc.—will collaborate on line of clothing and accessories with renowned British pop artist Philip Colbert of The Rodnik Band. Labelled Discovery Shark; the pop-up now open at Old Spitalfield's Market leading up to the summer's week-long must-see event of shark programming which will air on Discovery Channel between 22—29 July.
Returning from two museum shows in Shanghai and Japan, Colbert barely had time to greet his wife and children before heading straight to a giant 'pop' shark of his own design at Old Spitalfield's Market. The passion project is close to his heart, raising money for marine conservation, with all of the charity's proceeds to go to the Shark Trust and The Marine Conservation Society. As the aggregation of trash grows in the ocean, Colbert wanted to make his contribution and created and with Discovery Inc, created a collection of mens and womenswear, including bomber jackets, skirts, sweatshirts, t-shirts, and accessories.
The Shark Shack collaboration is the latest of many successful brand hook-ups in Colbert's portfolio. Since founding his fashion label, Rodnik Band, Colbert has created dresses for Lady Gaga, Anna Della Russo, Sienna Miller, the costumes for Rita Ora's world tour, and other famous faces too numerous to mention. Previous collaborations have included Disney, Rolex, Peanuts (with a campaign fronted by Cara Delavigne), and another is in the pipeline with Kanye West. The Rodnik Band has allowed Colbert to circumvent the fashion and design universe, dreaming-up limited-edition Duchamp-inspired urinal dresses and wearable art frocks. Sequinned tins of Campbell's soup attire and bejewelled fried eggs were sold like hotcakes in Dover Street Market and Collette in Paris.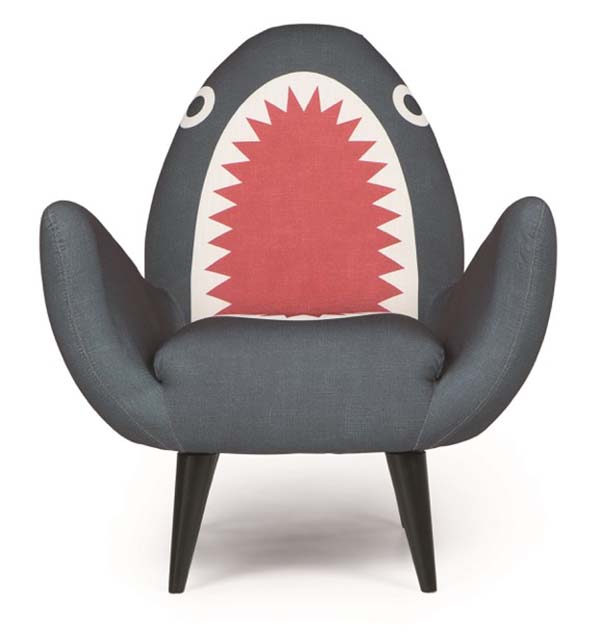 Colbert added, "as an artist, I have always been inspired by sharks and have featured shark graphics in my past work. The opportunity to collaborate with Discovery to create an entire shark collection was a really exciting opportunity"; allowing him to add to his pre-existing shark design pushchairs and armchair collaboration with Made.com.
Colbert's clothing is known for straddling a humorous line between fashion and art. "It's statement dressing. It's not just a fashion statement, but one with a cause." As an artist who has exhibited at Art Basel, the Tate Modern, and the Saatchi gallery, he wears his credentials lightly with the humour and wit required to push a double Shark buggy around the streets of Shoreditch (where he lives with his wife, fellow artist Charlotte Colbert) in a three-piece lobster suit.
Philip Colbert and Discovery Channel's Shark Shack is open during Shark Week until 29 July.