There's an old quote often attributed, without confirmation, to Leonardo da Vinci: "simplicity is the ultimate sophistication." Now the great Renaissance polymath may not have been a minimalist in the sense of Donald Judd or Yves Klein, but he was attuned to the notion that many a great songwriter has used to profound effect—that it is not what you put in, rather what you leave out that matters.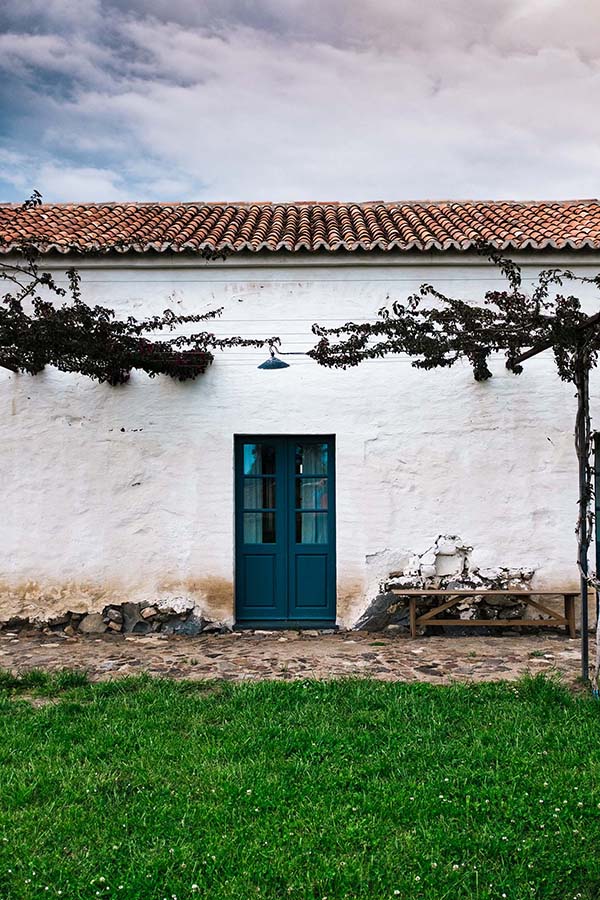 I am minded of this belief when gazing sleepily from my bed at the skirting boards in my room at São Lourenço do Barrocal, a stirring hotel that occupies an old Portuguese estate in the region of Alentejo. For there are none. Humbly plastered walls, a small gap, then original rust-red floor tiles typical of the region.
Reimagined with potent restraint by Pritzker Prize-winning architect, Eduardo Souto de Moura, this laidback farmstead is as pleasingly pared-back throughout. Unfussy landscaping; whitewashed walls scarred by the patina of time; terracotta-tiled roofs; original vaulted ceilings; sparse design touches and black-and-white photography of the estate before and during its renovation.
And some renovation. The ancient farming village having been in the hands of the same family for more than 200 years, eighth generation José António Uva—who spent much of his childhood here with his family—quit a job in London to return 'home' and embark on a sort of life's work. Having been abandoned after decades of disrepair, José would spend two years here, living among the dilapidation as he rediscovered its spirit; understanding its essence so as to impart that upon the guests that would finally arrive after roping in the world-renowned architect to assist on a monumental 14-year restoration; interiors studio AnahoryAlmeida and landscape architect João Gomes da Silva also contributing to its quiet revival.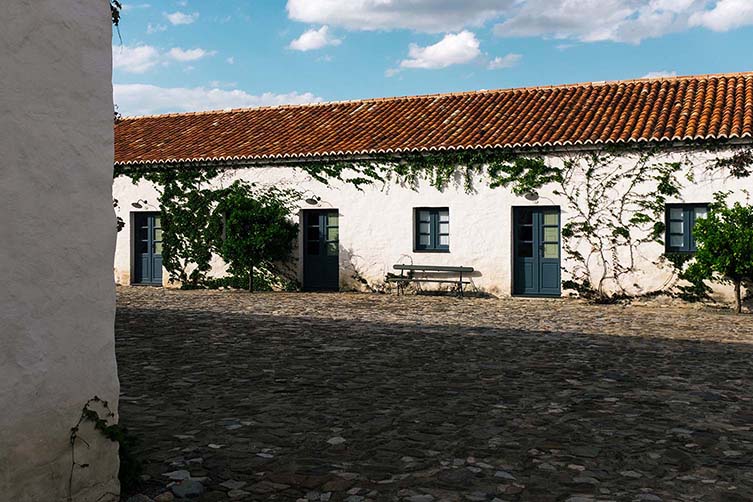 We arrive, following a drive of almost two hours toward the Spanish border from Lisbon, at the tail-end of lunchtime, and are promptly introduced to the estate's eponymous farm-to-table restaurant. Carpaccio made from their own veal; roasted black pork cheeks that fall apart in the mouth; breaded octopus; a garlic-heavy salad of shrimps; and greens direct from the garden. It is unpretentious, big on flavour, respectful of its ingredients and Alentejo tradition, and unashamedly delicious. Most importantly, it is all washed down with impeccable wine grown right here on the estate and crafted by award-winning winemaker Susana Esteban.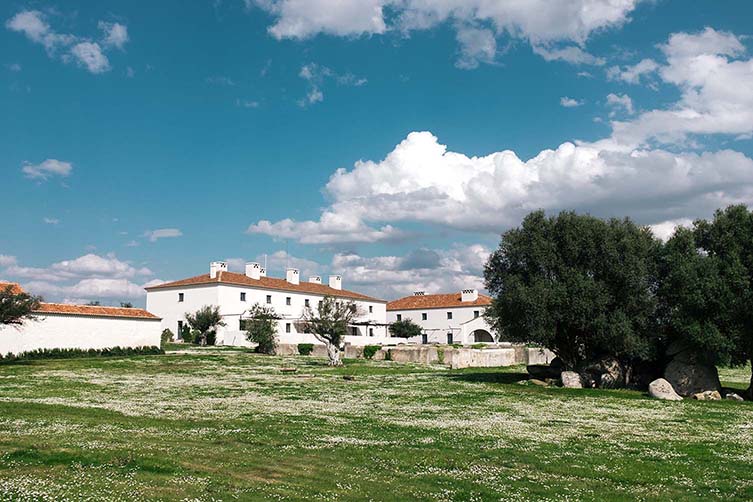 Later we'll be guided through Esteban's collection for São Lourenço at a tasting that follows a brief tour of their winemaking facilities; a white, a red, a reserve for each and a rosé to lighten intense summer days (temperatures regularly tip 40 degrees Celsius here in the summer we're told.) The red reserve is bold and intense, and is more than a match for the rich estate-reared meats that punctuate the menu; the 'standard' white is anything but, and is an irresistibly drinkable delight that we keep coming back to.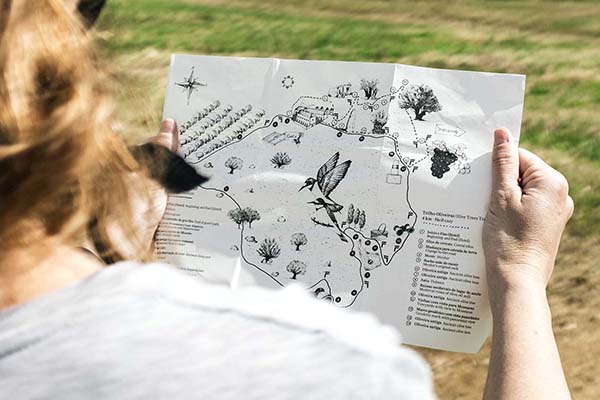 It's not long before we stop by the farm's nicely curated shop to stock up on supplies to take home with us. Typically incapable of producing the sort of volume needed to export their wines, Alentejo's remain somewhat of a secret, an added boon for visitors to this slow and spellbinding part of the world; its terroir rich, its climate conducive to slowly maturing grapes for depth of flavour.
São Lourenço do Barrocal's terroir, in particular, has proven to produce exemplary wines, and it is one you can easily lose yourself among. All 7.8 million square metres of it. Grab a bike and explore—an illustrated map will guide you through vineyards and olive groves, past ancient holm oak trees, Neolithic dolmen and menhirs that date back 7,000 years. It is a history lesson that does not need words, the stories of centuries gone by can still be felt as you skirt by these monuments to long-gone civilisations. Cattle roam free, and the sound of some of the 75 species of bird that occupy the estate is at times the only one you will hear.
Throughout the hotel's buildings and outhouses, the flora and fauna of this ancient village and its surrounding area have been beautifully hand-drawn onto old manuscripts and documents discovered during the renovation by illustrator Henriette Arcelin; each individual artwork (92 were exclusively made for the hotel) a celebration of both its heritage and place in the natural world. It is a considered collaboration, and one of a number between Portuguese artisans and craftspeople that define the project's slow-lifestyle approach to getting each and every detail spot on.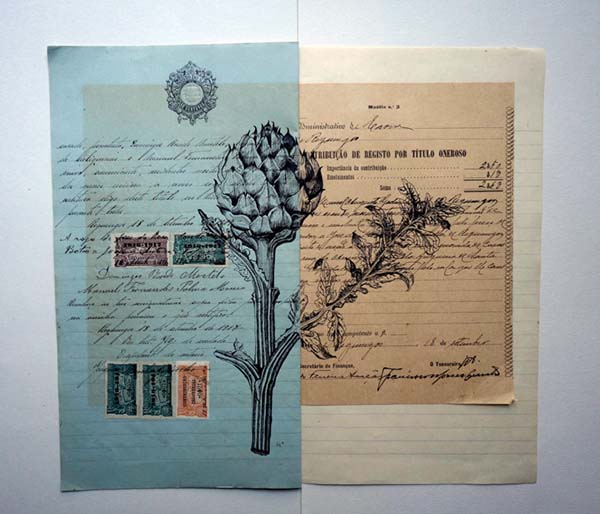 Handmade wooden furniture and lovingly crafted ceramics, modestly luxurious textiles and understated design touches that speak of the centuries of history here. Most poignant is a clear glass table lamp that embodies the subtractive nature of the less-is-more design ethos that pervades. A feature wall in the main restaurant displays family heirlooms and objects discovered throughout the restoration. By spending years submerging himself in the spirit of São Lourenço do Barrocal, the passion José António Uva has bled into its renaissance serves as a conduit to pass that back onto its guests.
Once a busy community (the estate and its produce sustained up to 50 families during the 19th century), it again feels that way. Staff are attentive and professional, but emit the warmth of good neighbours or co-workers. There is a sense that you are a part of something here, a feeling compounded as we park ourselves next to one of the barrocais—the huge ancient stones that dot the estate's landscape—with a freshly prepared picnic basket.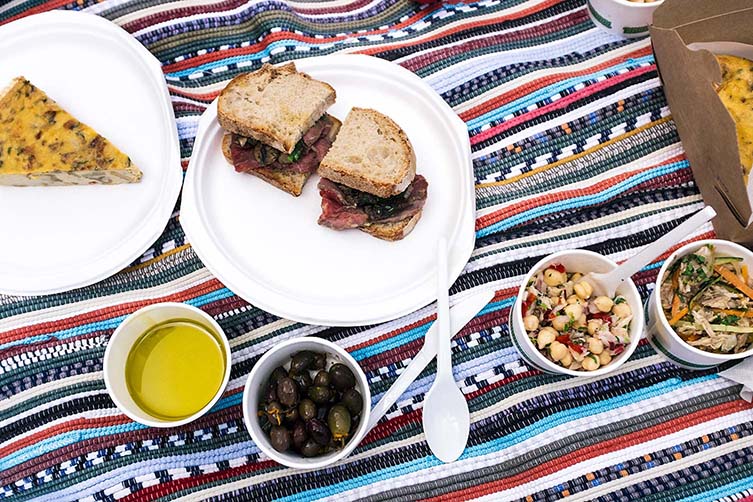 It's pure childlike charm as we lay a colourful blanket onto the daisy-covered grass. Quiche, olives, a cold salad of chickpeas and cod, veal sandwiches, infinitely moreish partridge escabeche and a celestial apple and cinnamon boleima, one box of delights after another.
As is the case with lunch and our fairytale picnic, dinner at the restaurant does not disappoint. One stellar dish after another gives us a taste of Alentejo. Breakfast, too, is a romp through seasonal, local and organic ingredients—a whole honeycomb oozes, homemade granola impresses. Cheeses, meats, fresh breads and pastries, roasted apples with cinnamon. Produce and presentation is informal and rooted in simplicity, the flavours are not. Rich and riotous, frequently soaked in lush oil produced from the farm's abundant olive groves, it is roll-your-sleeves-up-and-get-stuck-in cuisine, tastes that linger for hours.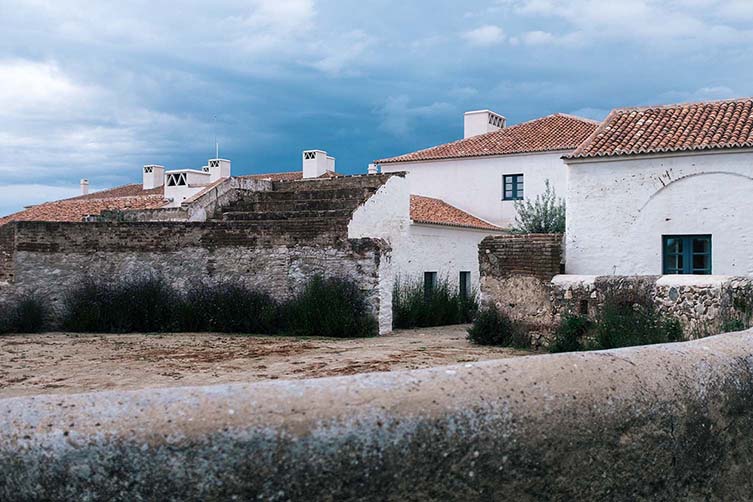 When one can eat no more, a visit to the austere Susanne Kaufmann Spa hits reset. Occupying an architecturally profound space, there's a meditative feel, heightened by the Austrian wellness guru's holistic products. An hour long full body massage in a beautiful treatment room works wonders on a body that has spent hours cycling a fraction of São Lourenço's 780 hectares. It's a 'proper' massage, not the sort of token gesture many resorts churn out at inflated prices, and its considered approach is fitting of the experience here as a whole. Intimate and with a sense of connection to the land and its heritage. Simple and straightforward, but executed with precision.
In just a few short days you acquire a sense of belonging to this ancient land. Inhabited since Neolithic times, it's easy to see what has kept cultures returning here century after century. São Lourenço do Barrocal is a new chapter for the estate, but thanks to a sympathetic restoration it feels as if little has changed. The land and its produce are still king here, the quiet luxury José António Uva has instilled merely another bystander to its singular allure. An accomplished and admirable project, his hotel is an antidote to complicated times, a paragon of veritable authenticity. Simplicity, after all, is the ultimate sophistication.
@Sao_Lourenco_do_Barrocal
@smithhotels
The Lowdown: Double rooms are available at São Lourenço do Barrocal, Monsaraz, Portugal, from 318€ and can be booked now via Mr & Mrs Smith. The closest airport is Lisbon, with car transfers taking less than two hours.