Famed for his 'liquidations' of iconic brand logos, renowned French street artist Zevs has moved on to liquidating a Pop Art icon in his latest body of work, The Big Oil Splash — showing now at Lazarides Rathbone.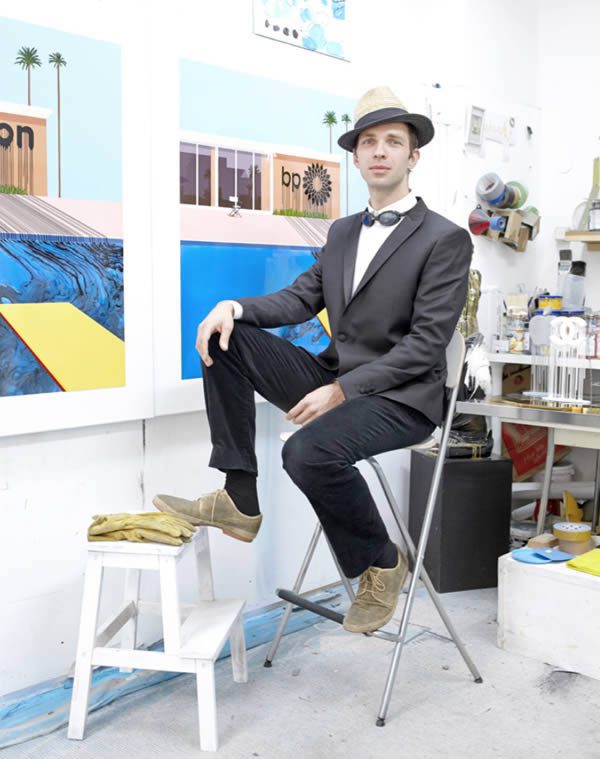 The clue is in the name, Zevs's splash taking its visual influences from David Hockney's 1967 masterpiece A Bigger Splash, playing on the British artist's revered colour palette whilst incorporating his familiar liquidated logos, and an overwhelming sense of corporation-sponsored doom.
Also known as Aguirre Schwarz, the Saverne-born provocateur demonstrates the same sort of anti-authoritarian spirit in his new show that saw him arrested in 2009 for spraying a 'liquidated' Chanel logo over a Giorgio Armani storefront in Hong Kong; extending his critique of consumerism to the oil giants whose sinister operations have spilled, literally, into every walk of life in the 21st century.
The politically-charged paintings that revel in the subversion of Hockney's summery aesthetic are accompanied by a second body of work that unfolds under the UV radiation of a sunbed, whilst a series of monochrome logo paintings hark back to his time at the forefront of France's burgeoning street art scene in the late 1990s.
Zevs, The Big Oil Splash, continues at Lazarides Rathbone until 1 September.