Combining the long-gone convenience of the automat with the future-forward fantasies of Silicon Valley, the best of the tech industry's software, robotics, and artificial intelligence skills come together at San Francisco's Creator—a new restaurant concept selling robot-made burgers for a mere six dollars a pop. To clarify, at Creator, diners can chow down on $6 burgers in one of America's most expensive cities, each efficiently and masterfully made by the world's first hamburger robot. What a time to be alive.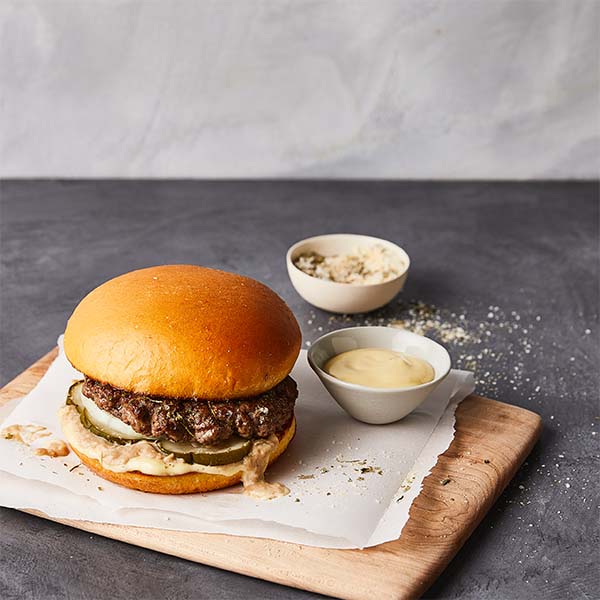 Whole brisket and chuck, tomatoes, onions, pickles and cheese are fed into the 'device' which churns out burgers to order; the Willy Wonkaesque contraption grinding the patty directly onto the grill, slicing and buttering the bun, adding the selected toppings and assembling the burger. Not wanting to automate away humans entirely—rather to automate the portion of the restaurant experience that can be done better and faster—Creator seek to encourage human interaction, reacting to what they say is an experience customers are demanding.
Currently offering 30 minute dining slots between 11.00 and 14.00, Wednesday to Friday, diners can expect to devour the machine-made Recreator, a savoury and rich patty with Pacific sauce, smoked cheddar, habanero sea salt, alderwood smoked salt, pickles, tomato, onion and lettuce; the smokey and sophisticated Aficionado with charred onion jam, Sweet Baby Ray's BBQ sauce, yellow mustard, smoked cheddar, chipotle sea salt, alderwood smoked salt, pickles and onion; as well as burgers made by guest chefs including the Mission Street Food Burger by chef Anthony Myint.
Naturally for SF, the space is modern with wooden communal tables and white stools on one end of the room, a bookshelf filled with gastronomy books, and the impressive electronic beast that whips out your $6 burgers left, right and centre.
Imagining new culinary possibilities, Creator is not only reducing the cost of farm-to-table dining for the eater by spending more on the cost of ingredients than other burger restaurants at our price point, it is injecting the height of modern technology into the dining experience. Whether we asked for it or not. Innovative and inspiring, whatever your views on automated cuisine, this San Francisco burger joint is Creatoring a new vision with far-reaching potential.