As if we weren't sold on news that "complimentary award-winning New Zealand wines are served every evening between 5—6pm", the show-stopping creative and innovative design at Queenstown's The Central by Naumi Hotels has us resolutely hooked in.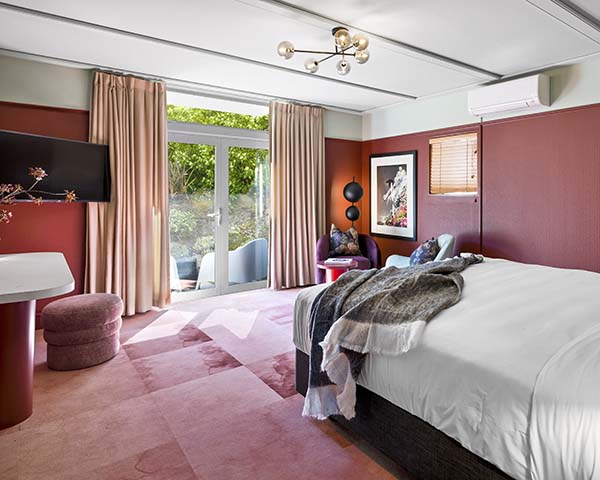 With some seven properties under their belt and expansion plans in progress, the luxury boutique brand (pronounced as know-me), seek to offer aesthetic functionalism, the creativity and personality of local surrounds, and unforgettable experiences; Naumi Aides on-hand to satisfy the individual whims of each and every guest.
A sanctuary in Queenstown's city centre, newly opened The Central blends a childlike curiosity with bold design and a fresh take on retro postmodernism; the hotel a first for the resort town built around an inlet in the south-west of New Zealand's South Island. Guest rooms—of which there are three categories—are infused with eclectic touches from the old to new world, interior design studio, Undercurrent, blending bespoke wallpaper and headboards by local artist Deborah Moss with Naumi's signature bedding, and employing a rich colour palette that riffs from earthy tones in the Habitat rooms, to bold and viridescent pops of colour in the Junior Suite. Smaller rooms offer a private courtyard, larger ones sit among the treetops and are fitted with private balconies offering views of the heart of the town.
A place for guests and locals to convene, Naumi Hotels know how to make their visitors feel welcome, this no more apparent than in the lounge area with its roaring fire and snug seating, where complimentary snacks and soft drinks are offered throughout the day, with an exceedingly 'Happy Hour' taking place between 5—6pm; guests allowed to sip on complimentary local wines before deciding how to end their day.
A garden area allows for alfresco breakfasts and aperitifs, and for those looking to explore the surrounding area, the hotel's location on Sydney Street makes it one of the best for local interactions. A place of exquisite, unforgettable aesthetics and supreme service, Queenstown has a new design icon.
@naumihotels
@undercurrent.studio