Known as Hayes Valley's hippest sushi bar, Robin features a hyper-seasonal menu that can be tucked into as either an omakase experience at the bar, or as part of the à la carte menu in the restaurant's main dining space.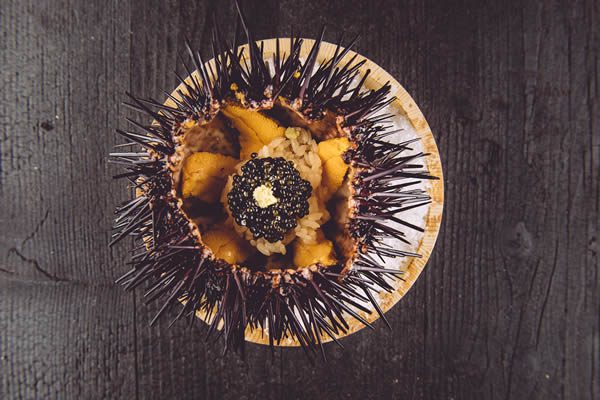 Founded by Adam Tortosa — former sushi chef at Akiko's (one of the city's most celebrated sushi restaurants), and highly skilled in the fine art of sushi — Robin San Francisco boasts a fusion of locally-sourced ingredients and fish with house-made condiments such as umeboshi and blood orange kosho.
The works of many Bay Area designers and artisans are featured throughout Robin, from custom-made Jered's Pottery plate-ware, to a custom handmade mosaic; recycled tiling by FireClay Tile, and a neon pink version of the Robin logo. Tortosa also worked closely with artist Caroline Lizagarra, who accented smokey grey walls with drips of rose gold resin, and Bay Area wood craftsman Terra Amico; who put together all the woodwork for the restaurant, including the blonde, alderwood sushi bar, and the dark wood dining room tables.
Located in buzzing Hayes Valley, diners are treated to an eclectic soundtrack and original artwork by San Francisco-based artist Ferris Plock, whose work combines contemporary pop culture with the aesthetic of Japanese ukiyo-e woodblocks. Those that make their way to the bathroom to 'spend a penny' will have to do so by traversing a floor made up entirely of real pennies.