Willmott's Ghost, open for lunch through to dinner at Seattle's The Spheres—Amazon's monumental $4 billion headquarters—is a cordial spot where Italian-inspired fare can be enjoyed in colourful surrounds.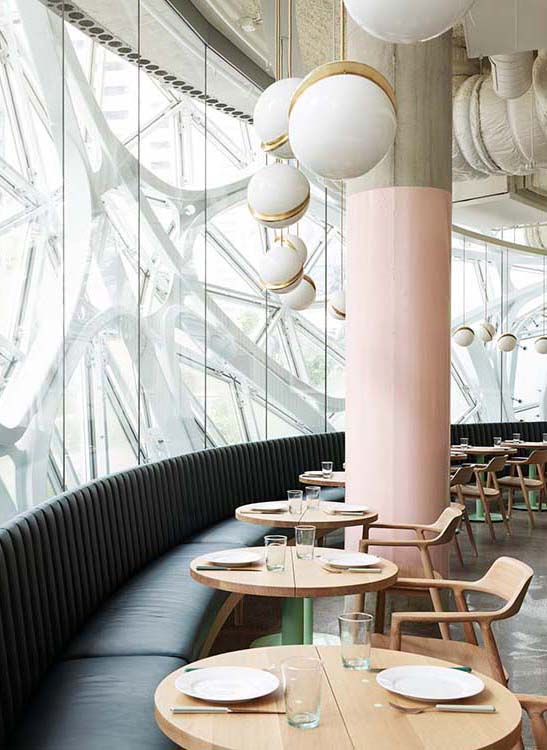 The latest opening from chef Renee Erickson, Jeremy Price and Chad Dale—who together make up the Sea Creatures collection of eateries, that includes The Whale Wins—Willmott's Ghost is named after the flowering plant famed botanist Ellen Willmott would add to public places and friends' gardens in a clandestine manner, and offers guests a menu that focusses on the flavours of Rome and Italy.
Think plates like squid with lemon aioli, artichoke with pecorino, garlic breadcrumbs and mint, and assorted antipasti sitting alongside larger plates like Manila clams, Carman Ranch filet mignon and a selection of pizzas, chef Renee Erickson explaining: "Willmott's draws inspiration from the country where I first fell in love with food."
Longtime Sea Creatures collaborators and interior design veterans, Price Erickson, worked on the fresh interiors at Willmott's Ghost, choosing an alluring palette of dark green, mint, pink, and gold to accent a dominant lightness brought in by large windows looking out to the pentagonal hexecontahedron panels of the iconic structure it inhabits. A laid back atmosphere, unrivalled location, and fine Italian cuisine from a James Beard Award-winning chef, this is a restaurant taking its city by storm.
@willmottsghost
@eatseacreatures
@priceerickson