Captivating creatures, a butterfly has four different stages in its life cycle. Each with a different goal. Butterflies are also more often than not polymorphic, which means they have the ability to take on many forms.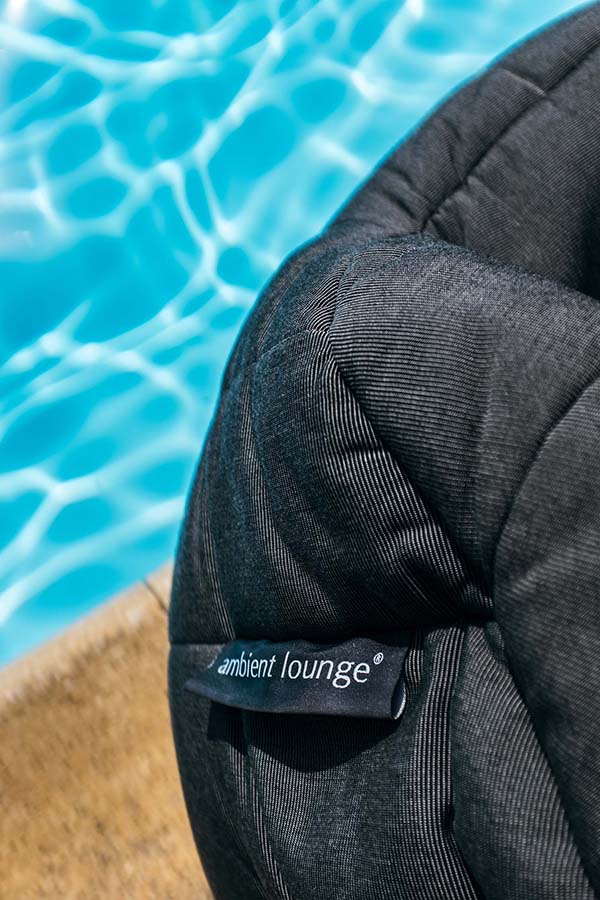 I'm unsure whether this even crossed the mind of the creative force behind Ambient Lounge's Butterfly Sofa bean bags, but the first time I settled into one I felt it. Like one of a butterfly's four stages, these pieces of furniture can envelope you like a cocoon. And similar to their polymorphism, once can sit; curl up; kick back; heck, if you're both small enough, you can do all of the aforementioned with whoever you like.
Sturdy whilst snug, this outdoor furniture (which you never knew how much you needed indoors) was made for those of us who love to live between the two. For those who, despite the elements, move between lounge, balcony and terrace as if it were one. Whilst modern day furniture is often bulky and heavy, in the Butterfly Sofa series, Ambient Lounge have created a stylish piece that can simply be moved between spaces as easily and effortlessly as you move yourself.
Getting ready to leave the city for a weekend on the Mediterranean coast in southern France, I load the car. Although this time, as well as packing my swimming costume and sun protection, a Butterfly chair accompanies us on our road trip. Final destination: poolside at a friend's house, just the sort of spot to enjoy the versatility and comfort this piece of luxury furniture demands. Especially when twinned with the Wing Ottoman, an accompanying footstool as tactile as it is multi-functional. Complete with removable memory foam cushion, it's as comfortable on the derrière as it is your feet after (or before) a hard day.
We barbecue lamb, sausages, fruits and vegetable, open a bottle of French red and devour it all alongside freshly-baked bread and creamy French cheese. The Butterfly is a consummate cocoon for sleeping off a food coma.
Made from durable-yet-super-soft fabric with padded quilting, the contemporary Butterfly loungers will quickly become your go-to chair of choice. Covered in Sunbrella—a leader in indoor and outdoor upholstery—fabric, the soft furniture will withstand the sun, retaining a high level of colour whilst providing UV protection, and is also water-, chlorine-, salt-, mould- and mildew-resistant, whilst remaining breathable to prevent condensation.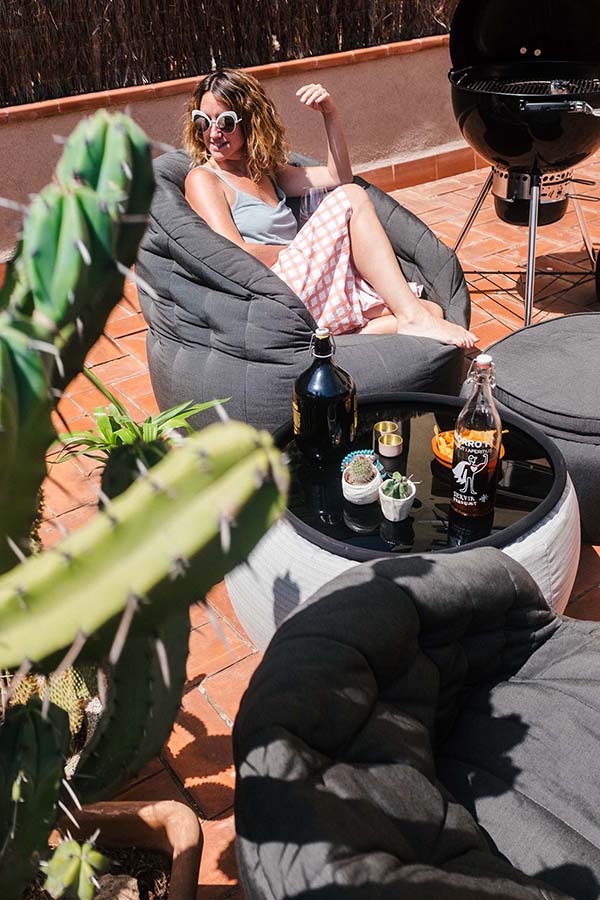 Available in Crimson Vibe, Mudhoney Dune, Limespa and Black Rock (the latter a deep two-tone weave, charcoal colour with individually-stitched fabric panels and subtle contoured piping), regardless of your individual style, there's an option for you. For those looking to spend a little less, a variety of colours are available in UV Grade AA+ fabric, offering premium pieces at very nice prices. Those on the lookout for indoor specific furniture, should look no further than the indoor Butterfly varieties; covered with a commercial-grade fabric often found in cafés, hotel lobbies and cinemas.
Short on space? The Ottoman alone would make a statement piece for any balcony. Easy to transport, take it with you to picnics, outdoor cinemas, festivals and pool days; you'll soon forget about picnic rugs, plastic seating or a lack thereof.
Completing the dream set, the Versa table was conceived to enhance your outdoor lifestyle to astronomic levels, its 5mm acrylic table top never looking better than when it has a bottle of bubbles and some finger food adorning it. Available also in Black Rock Sunbrella fabric, we recommend spicing up the arrangement and teaming it with a lighter Mudhoney Dune or Silverline tone, before placing your favourite plant, candle or small ornament atop.
Whether doing a spot of work with your laptop and morning flat white; enjoying a spot of the mid-afternoon sun; having a well-deserved tipple with your loved one after a long hard day; or entertaining friends with a BBQ, this Ambient Lounge outdoor furniture combo is an irresistibly comfortable, design-conscious collection that will enhance any lifestyle. One word of warning, though: removing friends from said collection can be seriously hard work.