The Capitol Hill neighbourhood of Seattle has been transformed over the last few years thanks to the multi-use developments of Liz Dunn. Her Melrose Market project recently celebrated its five year anniversary, and hot on the heels of that party-worthy milestone came the opening of Chophouse Row. This development follows its predecessor's template for regeneration, weaving together heritage properties with smart new buildings, and bringing together an attractive mix of retail, office and hospitality businesses.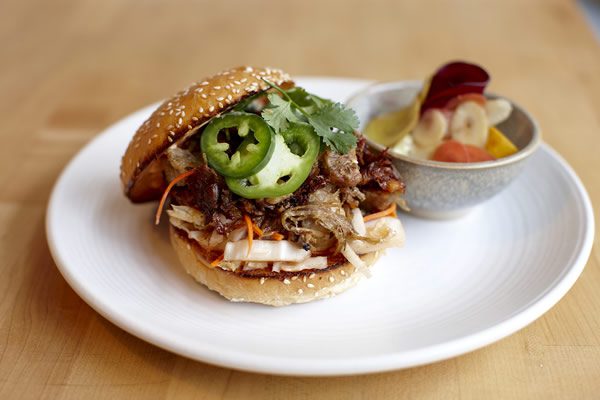 Chop Shop sits at the heart of the Chophouse Row complex. The venue's 11th Avenue façade has kept its attractive wooden windows on the first floor, while on the ground level a new bank of windows opens up the dining space to the outside world. There's 67 seats spread over 2,800 sqft, with all manner of options from the big central communal table to the chef's counter, with a further space for larger groups up on the mezzanine due to open.
Maple and metal are the dominant materials within the spacious café, and there is a nice collection of vintage kitchenware dotted around to maintain a link to the venue's past — a link enhanced by the re-purposed alley entrance to the century-old Williamsburg Court building. Chop Shop Cafe & Bar is run by Ericka Burke of Volunteer Park Cafe fame, and in addition to her sit-in eatery, there's a companion juice bar open around the corner from 8am to 3pm; coffee, pastries, sandwiches and salads accompanying freshly-pressed juices.