Located in the old iconic Carlsberg Brewery, Hotel Ottilia—the latest from boutique brand Brøchner Hotels, whose other properties include other Copenhagen gems such as Hotel SP34 and the five-star rated Hotel Herman K—is the first hotel in the Carlsberg City District and features 155 rooms, a spa and bath concept, and bars including a rooftop bar that commands views over the city.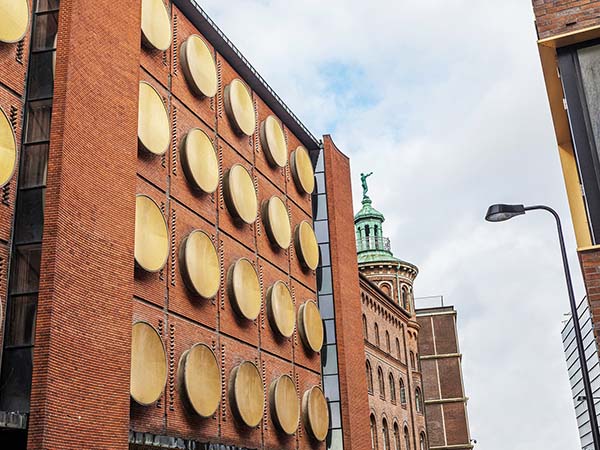 Housed in a neighbourhood in the grip of positive gentrification, where historic buildings sits side-by-side with new architecture and a vibrant culture and bar scene, Hotel Ottilia is named so after the wife of the Carlsberg founder and brewer, and reinterprets industrial and iconic architecture in innovative ways; many original features preserved where possible and combined with a fresh, contemporary edge.
On one façade, some 64 uncompromising golden discs shield rooms with high ceilings and industrial touches from the public—an aesthetic that sets a instantly-recognisable feel for the hotel's exterior; pleasing to the eye whilst serving a functional purpose. On the opposite façade, 64 equally-sized circular windows offer a different design perspective with panoramic views for guests from within the rooms.
The industrial theme continues into the public spaces, and its bars and restaurants—whilst most visitors will be eager to make their way to the TRAMONTO Rooftop, an Italian eatery located up high with an urban indoor seating space and tables on the terrace with 360 degree views of Copenhagen. Guests of Hotel Ottilia can indulge in 'wine hour' between 17.00 and 18.00, where a glass of the good stuff is offered on the house daily; a fine time to socialise with other travellers whilst enjoying the plentiful experience of this progressive hotel.