Hong Kong third wave coffee shop, Little Cove Espresso, is "taking care of the good people of Sai Kung, one cup at a time"—their passion for specialty coffee and Mediterranean-inspired food earning them some tasty accolades from those who happen across this laneway gem.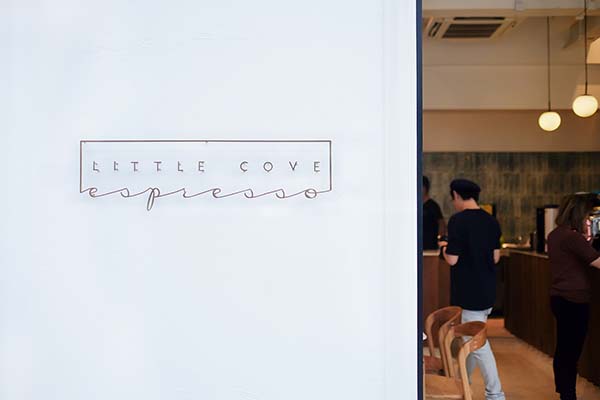 With a brief to create a "laid back Melbournian style of place for customers to spend the day and enjoy a cup of good coffee," local multidisciplinary design agency Studio Adjective—who have cool coffee café previous in the city with NOC Coffee Co.—have taken a minimal approach to the double height space, making the most of its exposure to an abundance of natural light and harbour views.
Influenced by the surrounding coastal suburb of Sai Kung, the designers chose a combination of wood, marble, and grey metal for the furniture—all of it offset by a beige terrazzo floor and some very nice lighting interventions. The terrace provides additional seating from which the inside set-up can clearly be seen. That set-up comes in the shape of the coffee bar and kitchen, which is the intentional focal point at Little Cove Espresso, an L-shaped station designed with weaving dark oak panels to symbolise the pattern of sea waves. It also provides the perfect vantage point to watch the expert barristers and chefs in action.
Surrounded by local seafood eateries, the beauty is well and truly in the simplicity here at Little Cove Espresso; which is set to provide caffeine and design fixes for Sai Kung's locals and visitors alike. Handsome and refined, Studio Adjective have nailed it again.
@studioadjective
@littlecove.espresso