A tech-savvy, self-serve food court located in one of the best planned business hubs in Hong Kong, Taikoo Place, KIN Food Halls is set over 18,000 square feet and segmented into kitchens, bars, dining areas and the food hall itself.
Designed by Hong Kong multidisciplinary design agency, Studio Adjective, the exquisite interiors encompass a practical spatial plan, custom furniture crafted in eco-friendly materials, and an overall Asian aesthetic influenced by Kin's surrounding business-district locale; its focus on Asian cuisine and a commitment to environmental sustainability.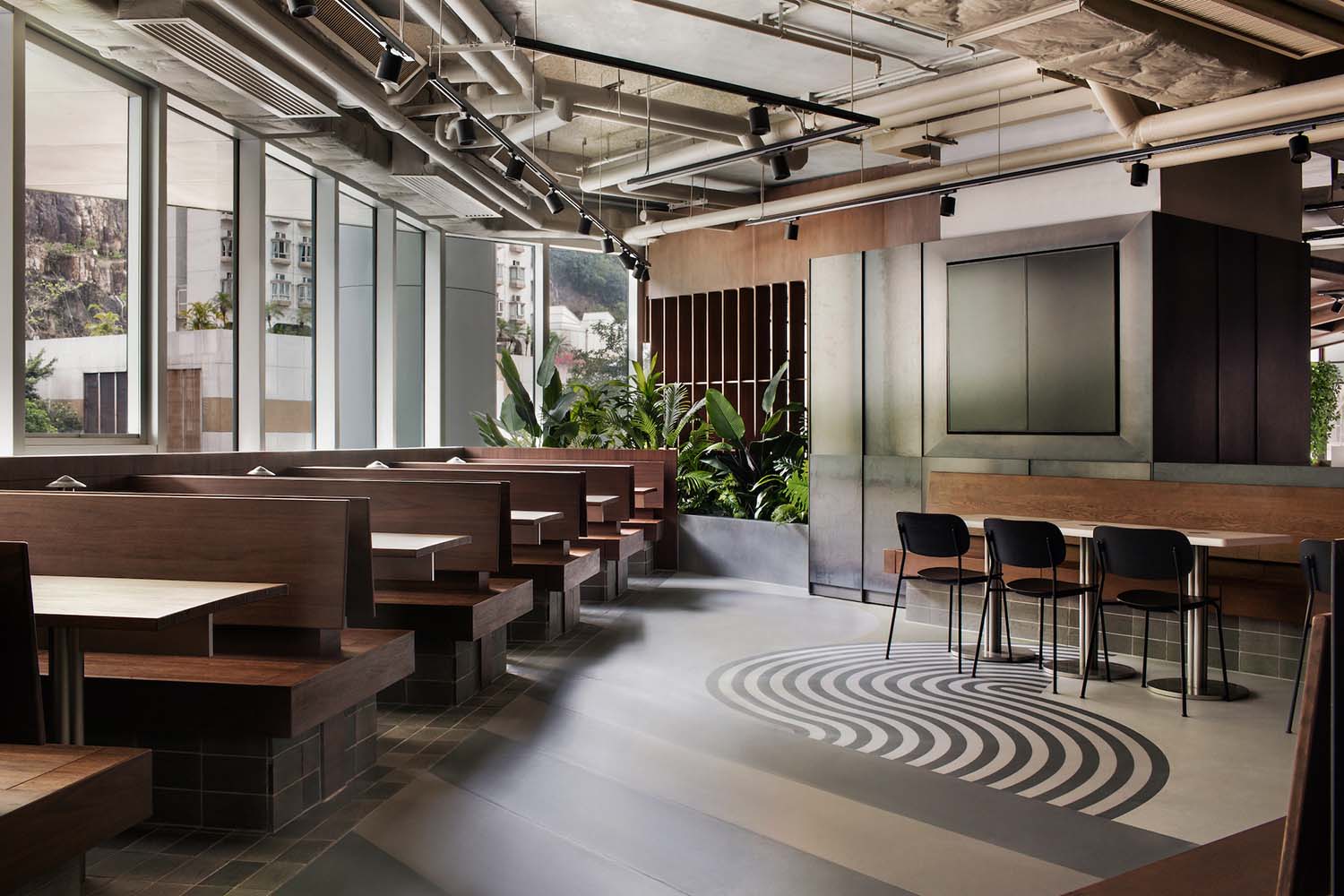 The new app-led dining destination offers over 200 dishes from some 50 plus brands, the 300 seater venue leaving foodies spoilt for choice with dishes curated into a 'food playlist' concept where sustainable ingredients are key. And, speaking of sustainability, in line with KIN's push for environment wellbeing, the project uses eco-focussed materials wherever possible, the result being that over 25% of materials used across furniture and interior are eco-friendly, recycled, or recyclable.
Furniture was designed to call attention to the ways design, craft, and sustainability work together, Studio Adjective designing custom table tops made from food residues produced in Asian dishes, and lampshades made from leaf discards of Longjing tea and shaped to evoke the tea picker's hat, each and every piece of furniture telling a story whilst synchronising with the brand's sustainability-focused ethos.
An exciting concept in an exciting city, KIN Food Halls' polished design masks much of its raw materials, Studio Adjective creating a blueprint for how luxury needn't mean wasteful high-end materiality. Inspired.