A play on words (suggesting to have a 'mean bowl of noodles' with 'mean' also sounding phonetically like noodles in Chinese), Sheung Wan restaurant Mean Noodles combines co-founders and designers Caroline Chou and Kevin Lim's love of bold aesthetics, delicious food and the flavours the duo have discovered throughout their travels in southeast Asia.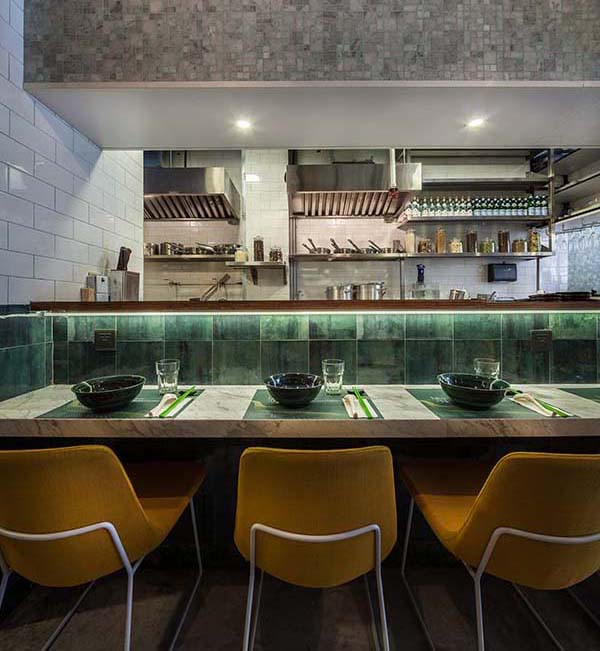 Hidden in plain sight, diners enter the noodle bar via an alley from New Market Street in the down-to-earth but lively Hong Kong district of Sheung Wan to be greeted by a contemporary spot that blends inconspicuously into its surrounding neighbourhood throughout the use of a vintage metal aesthetic combined with concrete finishes. To ensure that hungry customers find the casual new restaurant, its entrance is emphasised by green stainless steel window frames and the artful Mean Noodles logo.
Inside the restaurant, an open kitchen enables customers to interact with and be inspired by the kitchen team, diners able to see their food being prepared, witnessing the work that goes into each dish to provide it with the punchy, flavoursome taste of southeast Asian cuisine. Diners at Mean Noodles can devour soup noodles, dry/stir-fried noodles, and a selection of extras that include laksa battered wings, baby octopus, and a variety of vegetables.
Acting as both design team and chef-owners of the restaurant, Chou and Lim—whose interdisciplinary design studio OPENUU was founded in Boston, MA, and is now based here in Hong Kong—took their cues for the interior of Mean Noodles from Malaysian Batik, a popular textile art in leaves and floral motifs, creating a consistent concept from logo, branding, noodle recipes, all the way to the interior and façade. Marble tabletops and mosaic tiles complement the mean green tiles, contrasted with the mustard seat fabric; whilst the building's industrial-esque high ceilings provide a comfortable and airy atmosphere for diners to enjoy.
A cohesive experience from visuals to taste, Sheung Wan's Mean Noodles is a fine addition to Hong Kong's rich culinary scene.