Mixing lifestyle with work-style, upscale coworking space Blender proudly states that 'comfort and design can coexist'. Located in Manhattan's NoMad neighbourhood, members of this rarefied club run from entrepreneurs to seasoned professionals; all united by a call for functionality and quality. At Blender, they get it in abundance.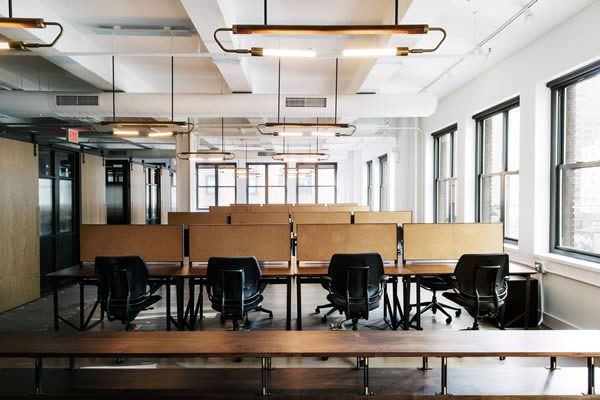 The story goes that the idea behind Blender Workspace was conceived at a Chinatown restaurant in 2013, three New Yorkers signing their signatures on a dollar bill to pledge a romanticised commitment towards creating an innovative and visually-stunning coworking space. Fast forward three years, through a hell of a lot of hard work, and in 2016 Blender was born.
The 15,000 sq ft space includes 35 private offices; 32 dedicated desks; meeting rooms; privacy booths; events area and café — the latter an inviting cocoon from which to work, eat and socialise with a very fancy custom-designed bar handcrafted from solid walnut. New York's Parts And Labor Design created the interiors which have taken their cues from mid-century modern; fusing plush leathers, velvets, and steel structural elements with artful detailing of brass and walnut wood. Naturally, the space is tech-friendly with ample power and USB outlets, however, thanks to Parts And Labor's thoughtful design and use of 'homely wallpaper' and flooring, the office retains a certain residential feel that makes Blender the sort of coworking space where digital nomads can bed into for long, comfortable sessions behind the screen.