As the East Fremont area of Downtown Las Vegas began a cultural transformation, a festival celebrating creativity and difference was born. Called Life is Beautiful, it would grow to become a three-day extravaganza for likeminded people to immerse themselves in music, art, taste, and ideas; its ongoing collaboration with arts house, Justkids, annually transforming DTLV into an open-air art gallery, a place of discovery and hunger.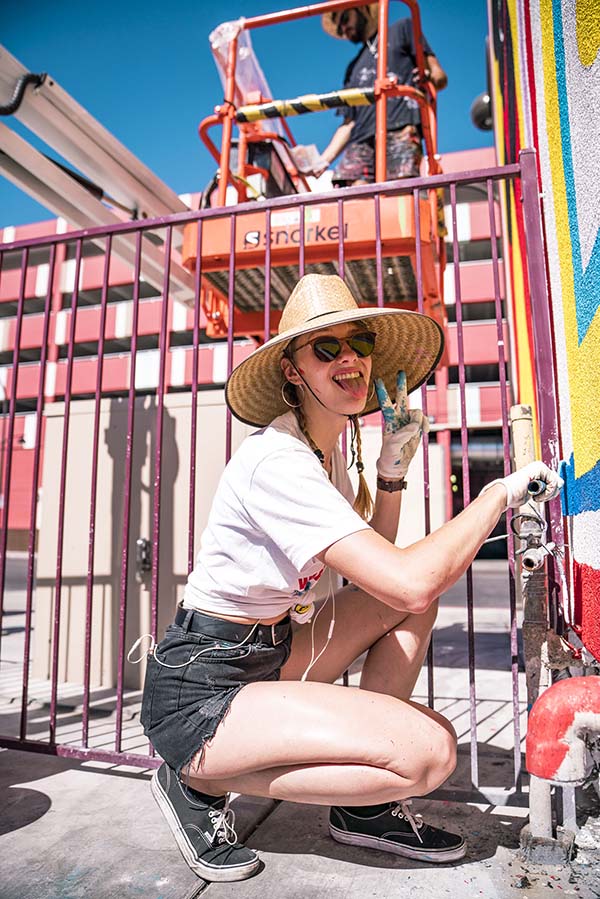 Enriching the cultural legacy of Downtown Las Vegas since 2013, Life is Beautiful is now a symbol of unity and optimism attracting some 175,000 attendees who flock to Sin City to see how some of the world's most notable acts, artists, and installation makers have transformed 18 blocks into pure visual wonder; a roster of leading street art talent accompanying the likes of Arcade Fire and Justice in bringing an alternative edge to the city.
Partnering with the creative house once more, Life is Beautiful recently wrapped-up a successful sixth edition, which saw the 100% female Justkids team work night and day over four weeks to produce larger-than-life wall installations and murals from a list diverse artists—including calligraffiti icon RETNA; Egle Zvirblyte with her empowering cast of offbeat female creations; Mr.A, aka André Saraiva; Sebastián Velasco; and Portuguese activist and ecologic artist Bordalo II.
"RETNA's mural for Life is Beautiful aspires for a future, rooted in the myth of the past, featuring a quote of Crazy Horse, Chief of The Oglala Lakota: 'I see a time of Seven Generations when all the colours of mankind will gather under the Sacred Tree of Life and the whole Earth will become one circle again'," explains Justkids curator Charlotte Dutoit of the artist's special dedication to the Las Vegas community. Bordalo II's Wild Wild Waste, meanwhile, continues the social messaging—his 10,000 sq ft world of trash drawing attention to current global issues of human waste production and the commodification of animal habitats. In The Empty Club—a lonely disco ball floating in the middle of the empty mirrored room of a former gas station—André Saraiva delivers a melancholic twist on Las Vegas's famed nightlife.
18 city blocks, some of the finest visual artists in the world, one monumental experiential art project. Sign us up for 2019.
@justkidsofficial
@lifeisbeautiful