No city has fallen as far and as hard as Detroit. The Motor City's woes — economic collapse due to industrial migration, subsequent bankruptcy and social problems — have been well documented to the point where Michigan's former manufacturing powerhouse has become synonymous with post-industrial decline.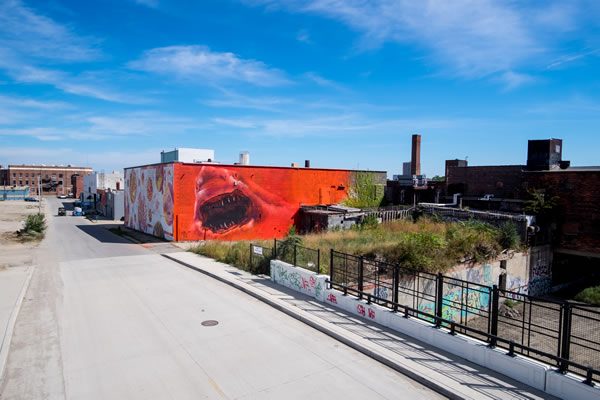 In the last few years, however, Detroit has been making strides in turning things around, with the arrival of a new creative class seeking refuge from the sky-high living costs of New York and California, artisanal crafts replacing large-scale factory manufacturing, and new development projects making progressive use of Detroit's architectural heritage.
Detroit is now being heralded by experts in Washington as a model for urban regeneration, but unfortunately good news never gets as much attention as bad, and it will perhaps be some time before the city shakes off its negative image. There's still a long road to travel, but projects like this in the Eastern Market District demand attention. In fact, you couldn't ignore Murals in the Market if you tried, as it has, in just over a week, propelled Detroit into the upper echelons of world street art.
If that sounds hyperbolic, then prepare to be convinced — not to say blown away — by what has been accomplished. Detroit's industrial manufacturing might has always gone hand in hand with a powerful creative streak, and the Murals in the Market festival, held at the end of September, is proof that this tradition remains alive and kicking. The first of what is planned as an recurring event attracted 45 local and international artists for a nine-day blitz on the Eastern Market neighbourhood, and when they were finished, the results were extraordinary.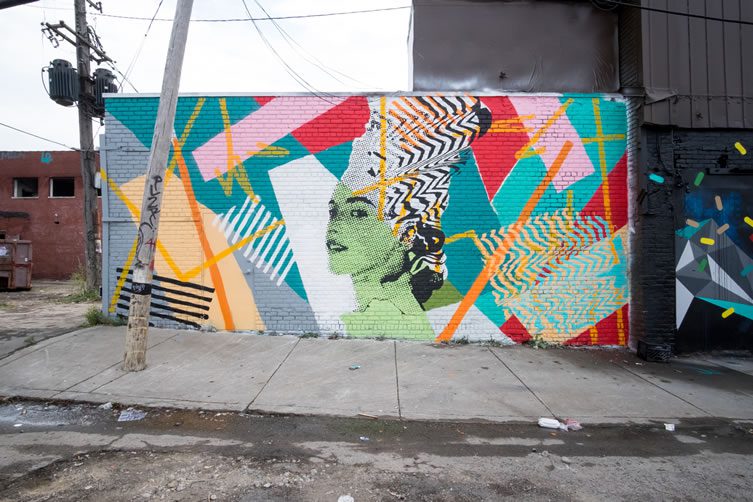 Each of the participants set to work on a large-scale mural, while around them live events ranging from block parties and tailgating to history tours and lectures kept the crowds entertained. The likes of LA-based Meggs; French street artist Miss Van; Melbourne's RONE; Paris street artist Kashink and New Zealand's Askew joined visiting American artists including Brooklyn's Beau Stanton and locals such as Ellen Rutt and Jesse Kassel, setting brushes and spraycans whirling to inject even more colour and vibrancy into the already bustling district.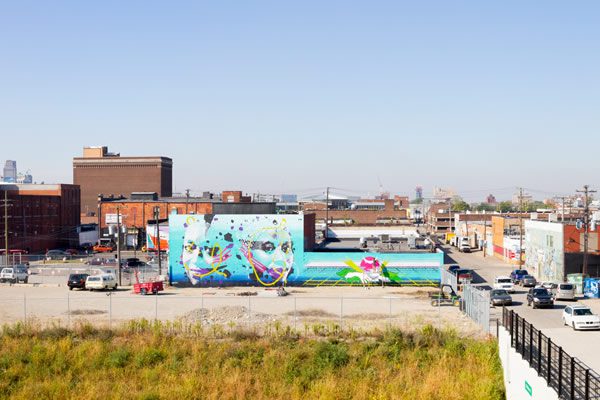 More than 45 works covered urban canvases of all kinds, from traditional flat plane facades to multi-dimensional wraparounds, trucks, and interior walls, and varied hugely in style to take in portraiture, abstract graphics and narratives.
The festival was organised by online art retailer 1xRUN and their bricks-and-mortar Inner State Gallery operation. The group has been doing good things for Detroit for a number of years, and are responsible for curating and producing over 100 murals across the city for initiatives such as 2011's Detroit Beautification Project. Over 30 of those public artworks have centred on the Eastern Market area, which has, since its founding in the 1800s, been an important community hub and a meeting point for diverse cultures. Though this year's festival is over, its legacy will remain and the astonishing collection of public art it created looks certain to take its place as one of Detroit's major attractions.