Located in a 17th century carriage house next to Amsterdam's Brouwersgracht canal, The Garage is a contemporary art gallery, and exhibition/project space that supports emerging international artists in the realm of street art culture.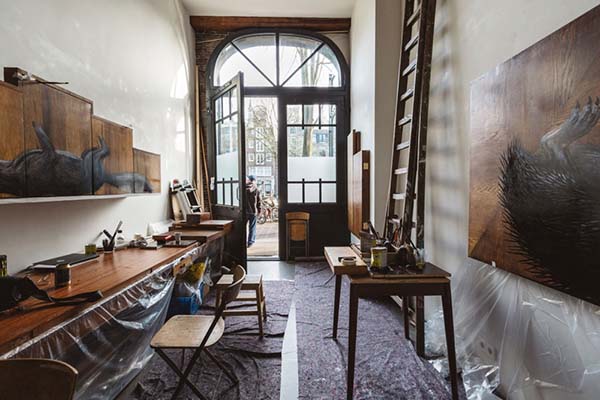 Visual artist Mike Lee is currently on show with I've Missed You, his first exhibit at the gallery and—in fact—Europe; Lee revealing six new oil paintings that celebrate unity, kindness, and respect toward others. (And aren't they values essential to these dark times?) Using abstracted human forms that appear almost computer generated, the New York-based artist expresses emotions from isolation to hope, his deconstructed forms lending themselves to the telling anybody's personal stories; free from social constructs of race or gender.
Run by Mark Chalmers, The Garage Amsterdam seeks to integrate youth culture into its striking space—working with cutting-edge artists who form the backbone of the project's mission. Counting the likes of ROA; KAWS; Shepard Fairey; Parra; Banksy; Ben Eine; and Faile among those who've featured in solo or group shows, Chalmers's project commands serious attention from the world of street art, whilst also using its prestigious name to present low-key shows and champion emerging art talent.
Partnering on occasion with museums, institutions, and brands, The Garage Amsterdam offers a unique platform for those who're more used to working on walls than within them.