Two of FAILE's most impressive works take centre stage at a major exhibition of the duo's work currently being held at Brooklyn Museum. FAILE: Savage/Sacred Young Minds headlines with Temple and Deluxx Fluxx Arcade, the latter of which saw Patricks McNeil and Miller work with regular collaborator: Brooklyn artist BÄST. There are several new works on show too, making this event a must for fans of the street art / fine art crossover stars. Which is pretty much everyone, isn't it?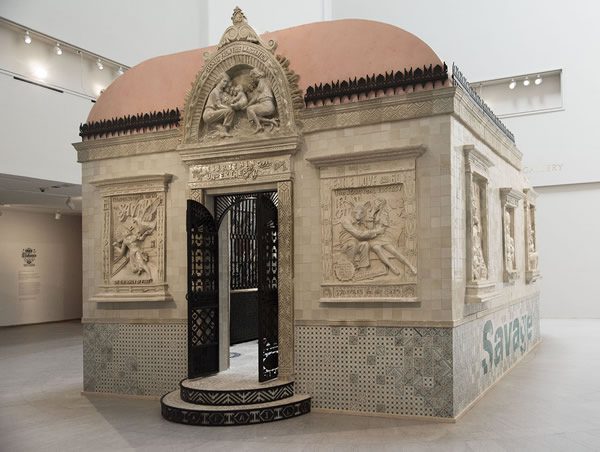 If you missed it the first time around, Temple is a large-scale sculptural installation that first appeared in a public square in Lisbon for the Portugal Arte 10 Festival. Resembling a ruined temple from the Roman forum, with the faint visual whiff of a knackered Victorian public toilet, Temple appropriates classical religious iconography, putting a contemporary twist on the subject matter — it's as though a modern day monument has been unearthed thousands of years in the future. Deluxx Fluxx Arcade, in contrast, is concerned with more recent history; the collaborative work is an eyeball-scouring take on an amusement arcade hall, compete with retro video games and more neon than is strictly good for anyone. New works include two "ripped canvas" triptychs inspired by the layered remnants of urban fly-posters.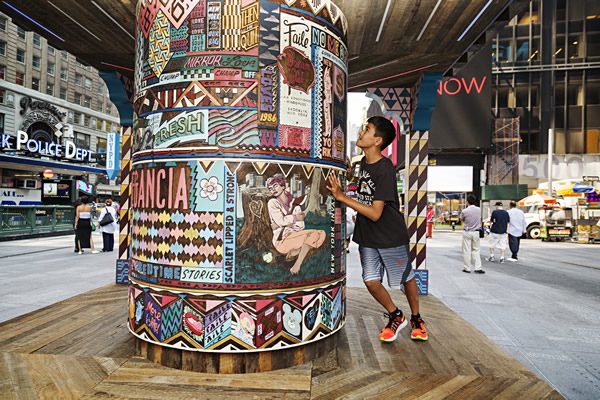 Bonus beats for visitors to, and residents of, New York City is FAILE's interpretation of Asia's prayer wheels; the duo's Wishing on You installation dropped into the city's most famous meeting point this weekend. Playing on common themes of iconography, the harlequin, interactive sculpture relates to Times Square's cultural legacy: "While Wishing on You really builds on Times Square's storied past — its nickel arcades, glossy ads, and carnivalesque spirit — we are also aware of how it has served for so long as a truly American place of celebration and commemoration" declare the duo.
You have until 4 October to catch FAILE: Savage/Sacred Young Minds at Brooklyn Museum, Wishing on You will occupy prime position on Broadway Plaza between 42nd and 43rd Streets until 1 September.