Influenced by its neighbouring Danish design school, style-conscious St Petersburg eatery 'О' is a 46-cover gastrobar located on the ground floor of a 20th century mansion, with devastatingly handsome interiors courtesy of architecture bureau Rhizome.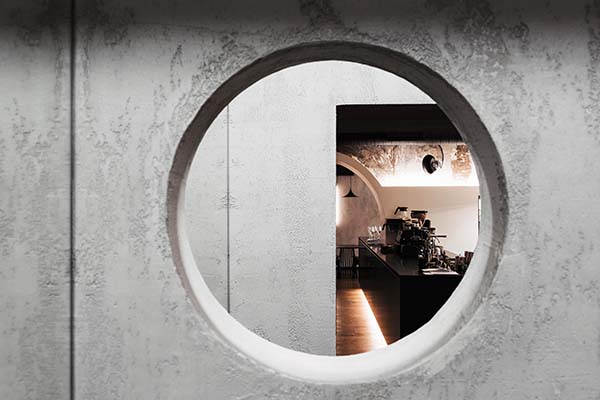 The design team—led by Evgeny Reshetov and Tatiana Sinelnikova—were conscious of referencing the Russian city's cosmopolitan roots whilst balancing Scandinavian minimalism; the resulting arrangement consisting of an open plan space with partially-exposed brick walls and an abundance of white matte concrete mixed with rich dark wood flooring and custom-made furniture interspersed with vintage chairs from Yrjö Kukkapuro.
By integrating the original multilayer plaster, brickwork, and vaulted ceiling into the new interior, design savvy diners at Gastrobar О are reminded—say the designers—"about the period of the turbulent 90s, with its squat movement, the spirit of self-organisation, and freedom". Rather more fancy than any 1990s squat We Heart ever spent time in, the refined Scandinavian cuisine here is in line with the restaurant's more urbane design features, which offer the perfect environment for whiling away a few hours with friends.
Tucked away in a cul de sac off the beaten track, with rave reviews justifying the excursion, St Petersburg's swanky Gastrobar О is a welcome addition to the extravagant city's stylish scene.