With breathtaking views of the Cantabrian Sea and beyond, the new infinity pool and roof deck at Hotel Chiqui Santander marks the second phase of a splendid redesign by Barcelona-based interior design studio, Sandra Tarruella Interioristas.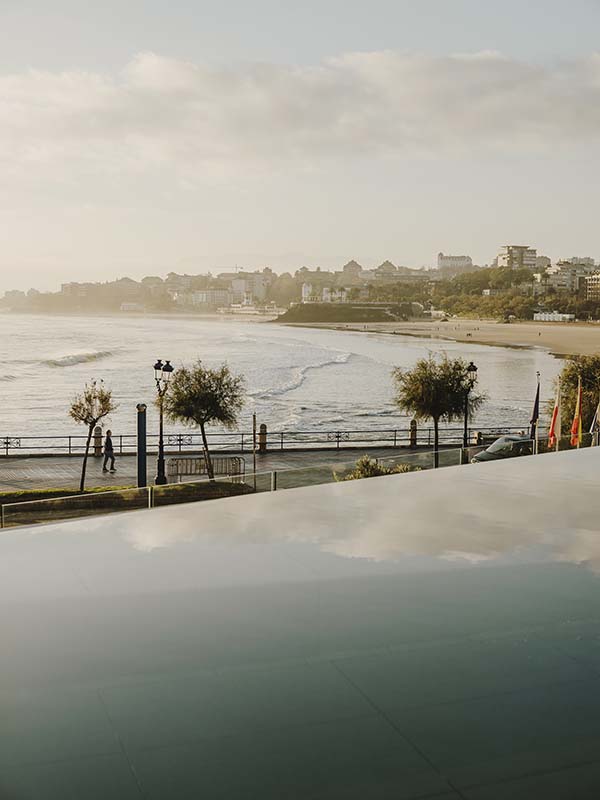 Ensconced on the popular Playa del Sardinero on Spain's northern coast, the hotel is the quintessential fusion of beach and city life and has 161 guest rooms each with views over the glistening, blue water, and located within easy walking distance of Santander and its incredible foodie scene. Alongside the pool and roof deck, phase two of the redesign included a conversion of the hotel's old restaurant into nine suites, and follows on from the initial phase of renovating all of the property's common areas, and the inspiration behind the original concept——casual with hues of natural tones——continues into the latest design, tying all the interiors seamlessly together.
With regards to the nine suites, warm colours and noble materials have a subtle and elegant aesthetic. Designed around a central stair patio that leads to the roof deck and provides natural light to the corridor, the designers have directed views towards the bay by distributing the space with bathrooms located adjacent to the entrance, a living room, and bedrooms with exterior views. Furniture includes light metal tables, a ball-shaped paper lamp on the corner of the living room, an oak wood desk, and suspended lamps or sconces on the headboard, with the bathrooms maintaining the aesthetics of the room, but providing additional light and character.
PANORAMA Restaurant & Lounge is the spot to enjoy great food and cocktails, Tarruella Trenchs Studio having designed a space brimming with life both inside and outside on the spectacular terrace, and whether you're there for lunch or dinner, don't forget to later head up to the roof deck to take in the daytime rays or come nightfall, the flickering lights of Santander city.
@hotelchiquisantander
@sandratarruellainterioristas