What was once one of the more run-down boozers in town is now a shining example of everything done exactly right—a boutique bar and restaurant with rooms. And bags of style. Oozing seaside charm and glamour, the property is located mere steps from the beach and Deal Pier, and has had an extensive makeover; its new owners—two families—hell bent on restoring it to its Victorian heyday and then some.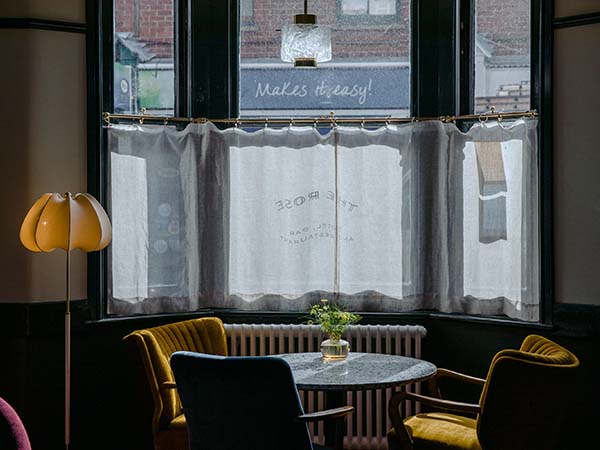 Fusing eclectic design with luxurious style, interior designers Harding & Read—alongside creative consultancy from Michelle Kelly—transformed the eight rooms with vintage furniture, lavish beds, and a bold colour palette. Whilst some rooms come equipped with record players and vinyl, others boast restored antique sinks and roll-top baths; all include a much-welcomed breakfast of home-made granola and yoghurt, fresh fruit, and sourdough bread with house jams.
Speaking of food, the kitchen at The Rose (led by executive chef Rachel O'Sullivan, formerly of Polpo and Spuntino) uses local, seasonal ingredients to create a classic but modern British menu. Think roast chicken, little gem, kohlrabi and tarragon salad; smoked haddock, samphire, soft boiled egg and pangrattato; and roast lamb chop, lentils, purple sprouting broccoli and anchovy, followed by a selection of English cheese or chocolate mousse.
Open for breakfast, lunch, dinner, and weekend brunch, coffee is served throughout the day and comes courtesy of East London's Climpson & Sons, whilst the bar menu consists of handpicked wines, Kent ales, and other local craft beers and cocktails. Not in need of a full meal? Chow down on bar snacks such as cauliflower cheese croquettes, Welsh rarebit and house pickles, whilst contemplating how a triumphant design project has taken pastel bathroom suites, nan's best upholstered armchairs, and overwhelming floral prints back to the exultant heights of style.
A remarkable achievement that almost (almost) makes us proud to be British again, The Rose is a shining light for renovation projects where authenticity is placed paramount; its inimitable atmosphere benefitting from an unabashed dance down memory lane. Brilliant.
@therosedeal
@climpsonandsons
@hardingandread
@kittykellystyle