Lancaster Gate, London; something very different is happening beyond the well-worn doors of a former hotel on the edge of Hyde Park. Coming over more Berlin than Bayswater, The Averard Hotel has been stripped back to its bare bones as the inevitable bells of luxury flat-conversion are set to toll.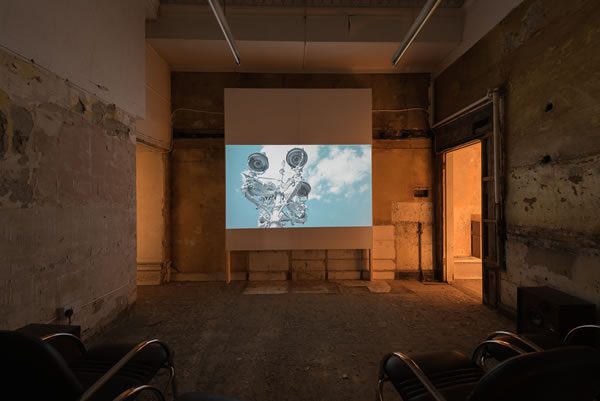 Built in English Baroque and French influences during the mid-1800s, Lancaster Gate was popular with wealthy families — the 1920s saw its grand homes divvied up into flats and hotels, and the Averard has been knocking around since. Making use of the empty space until the renovators roll in, the abandoned hotel now finds itself as one of the city's most unique art venues.
Founded in 2013 by Alex Meurice, Slate Projects continue their initiative of hosting exhibitions in 'transitional properties', with the space's inaugural exhibition; a collaborative showcase of 13 contemporary artists that is rooted in Michel Foucault's notion of heterotopia — spaces and places that have a distance from our typical lives … ships, prisons, brothels.
A 'show-within-a-show', Cybernetic Meadow occupies the hotel's former ballroom and features works from Gordon Chung, Jon Rafman, Lee Marshall and Sean Steadman; the remaining artists are Shiraz Bayjoo, Egle Jauncems, Nicholas Johnson, Rory Menage, Jolanta Rejs, Ishai Rimmer, Pablo Smidt, Shubha Taparia, and Joel Wyllie. The exhibition runs until 31 January.