With humbling views over Palatine Hill, The Rooms of Rome palazzo rhinoceros are the residential quarters of a historic palace reimagined by the Fondazione Alda Fendi – Esperimenti to promote artistic experimentations that go beyond conventional boundaries. Part of a significant project that sees Alda Fendi—the youngest of the FENDI founders' five daughters—again giving back to the Eternal City, The Rooms of Rome are a place to enjoy the real "city of art" by experiencing personalised overnight stays in one of 24 apartments designed by iconic French architect Jean Nouvel.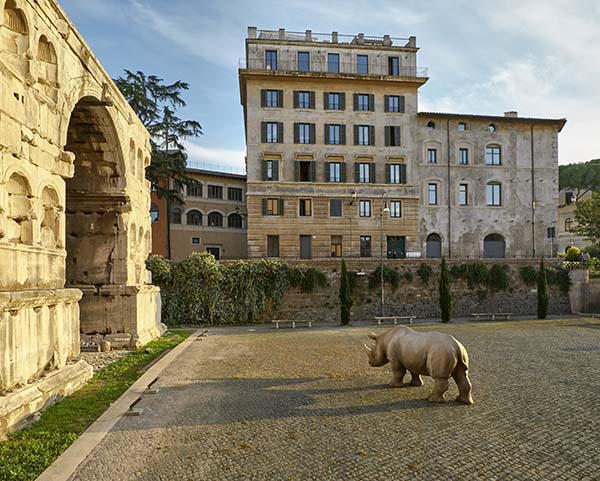 The fully equipped apartments—each one different to the next in terms of layout and style—were imagined in the eyes of the architect as "openable" areas; where stark steel boxes that sharply juxtapose the history of the palace's storied walls can conceal kitchens, cabinets, or bathrooms. Designed and patented for the rhinoceros building alone, it's a progression of the traditional living space that parallels the experimental nature of the foundation.
Integrating art into daily life and combining it with innovative design and the latest technology, Roman history, modernity, and never-ending construction are the spirit of The Rooms of Rome. Here in the heart of this life-affirming city, guests can experience L'Occitane amenities, a pillow menu, the highest quality linens and furnishings, a choice of perfumes for their room, and a host of decadent offerings from external partners; who include the famous Parisian brand, Caviar Kaspia.
Located on the fifth and sixth floors of the palazzo rhinoceros, next to the the Fondazione Alda Fendi – Esperimenti's gallery spaces, Russian inspired gastronomic proposal Caviar Kaspia Roma is a place to watch over the Forum Boarium, Piazza della Bocca della Verità, and more whilst nibbling on imperial crab and caviar washed down with a selection of fine wines. It's a collaboration that defines the knowing opulence of this exquisite and singular hospitality project.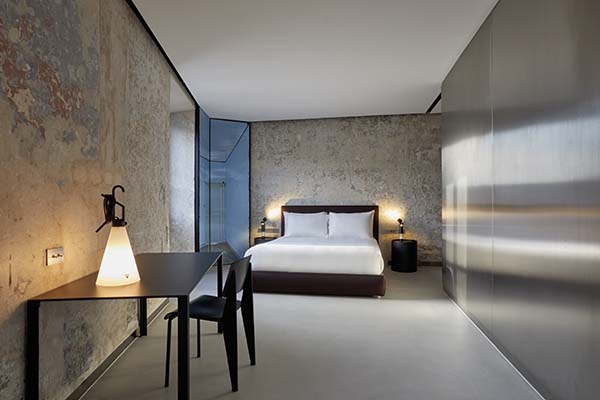 "Taking part in this extraordinary project with the creation of a mastermind like Jean Nouvel, with the artistic passion of the Fondazione Alda Fendi – Esperimenti, and with the gastronomic excellence of Caviar Kaspia is definitely an honour," says Spanish entrepreneur Kike Sarasola, founder of Room Mate Hotels and the curator of this experience. "I'm absolutely certain that entering the world of art, gastronomy, and high-end hospitality will bring nothing but success to this marvellous experience. Actually, The Rooms of Rome is just the beginning of one of my upcoming projects, The Rooms of the World, that will take the most exceptional experiences to many cities across Europe and the world."
A holistic experience dedicated to the arts and unmistakable luxury, The Rooms of Rome is resplendent in its own decadence—an absorbing project that revels in its unrivalled location in the centre of classical Rome and thrives on Jean Nouvel's imposing aesthetic influence. A modern masterpiece.
@theroomsofrome
@caviarkaspiaroma