Martina Spetlova is a designer and innovator who is fighting for a more ethical world of fashion and textiles. Her luxury hand-woven accessories and jackets are designed and made with transparency, ethics and sustainability in mind, but her design philosophy moves beyond accountability. She is one of the first fashion designers to adopt blockchain technology, embedded in her pieces to offer the consumer a narrative so important for her brand's product-journey.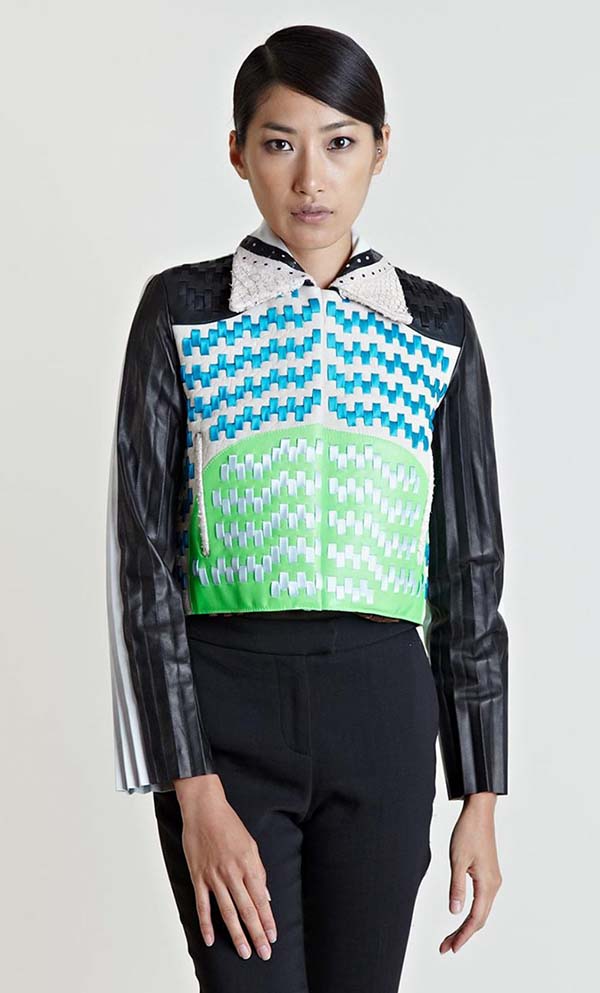 Spetlova is experimental and pioneering in her design process but also in method and production. Her design pieces—including bags, accessories and outer-ware—are made from hand-woven leather which is sourced from European tanneries where animal welfare is firmly at the top of the list of priorities. They use by-products from the meat industry that would otherwise end up on landfill, use non-toxic dying processes and adopt strong water policies.
Artisan Syrian refugee women are commissioned to craft her wares, and she works with NGOs to enable these women to work for themselves at a fair price. The environment is another primary motivation in her innovative approach because quite frankly, the environmental problem with plastics goes way beyond disposable single-use bottles. The clothing industry is one of the significant ecological pollutants because plastic-infused fabrics are non-biodegradable and often employ unethical labour and factory practices.
Spetlova is doing something that many well-known fashion and textiles designers are yet to adopt. She is not only designing beautiful, audacious and impeccably-crafted pieces, but proving that the fashion industry does not need to exploit people or pollute the environment.
We had a chat with Martina about transparency and discovered why craftsmanship and innovation in design is the only way forward.
We hear that you have a scientific background, that you studied chemistry and didn't start out in fashion or textile design. Where did it all begin for you?
Yes, I have a degree in chemistry and biology, but I have always been interested in fashion and textiles in particular. I love experimentation in challenging materials and in some way it is similar to working in the lab.
After a few years living in London, I applied to Central Saint Martins and stayed for six years completing my BA and Masters in Textiles for Fashion.
What was it about fashion and textile design that attracted you to it?
My interest in fashion and textiles came from my mum who was always making garments in her spare time. She taught me how to sew, knit and other textile techniques. When I was a teenager I could never find anything in the shops I liked to wear, so I started making my own clothes. That stayed with me.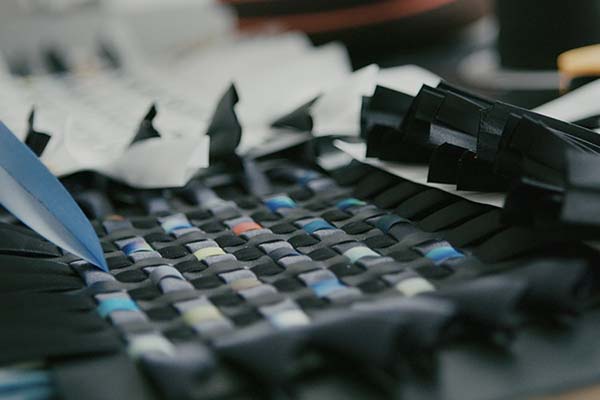 Please tell us about your current city and studio. What do you love (and hate) about London? Where do you like to hang out, and does it still inspire you?
I have always lived and had my studio in East London. However, I am now also discovering south of the river. I recently moved my studio south after receiving the Leathersellers' Award, in partnership and support of Cockpit arts studios based in Deptford. I love everything about London, its parks, galleries, food influenced by different cultures, the fact that it does not matter where you come from, in fact, you are most likely to meet someone with a multicultural background.
I hang out in Hackney and London Fields where I live, and also in Deptford.
You're fighting to make the fashion world a more ethical industry, what message do you have for the companies that ignore responsible and sustainable methods?
As an industry, we quite often put the responsibility on the shoulders of customers to buy responsibly and less, which is great, but I truly believe that the fashion industry has to change. We designers have to take responsibility for our work and our supply chain, and working sustainably and being transparent is the only way forward. I think that we have to measure our impact, work closely with our suppliers and be creative in our design thinking. That is the key to building a more ethical future; whoever doesn't understand that will not survive.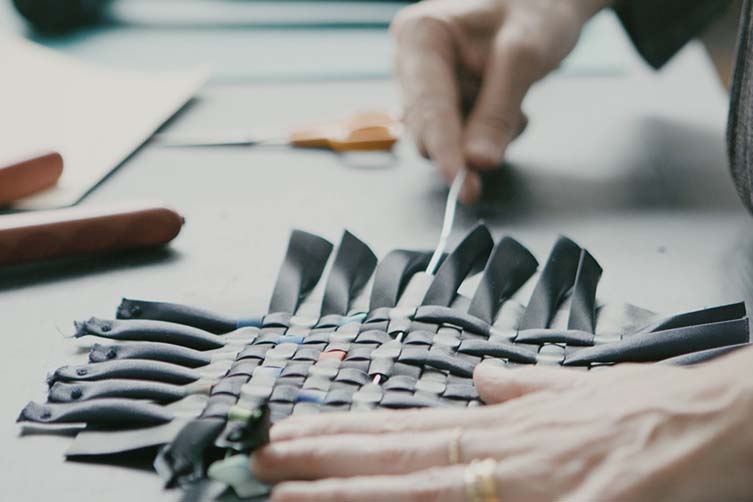 Each one of your garments and accessories comes with a scannable chip detailing its materials, sourcing and processes, why do you use blockchain technology in your business? What motivated this decision for transparency and product journey?
I have come to realise the importance of storytelling, and how each product has a narrative; its journey, not only from conception to design, but how and by whom it has been made, where it has travelled and how it ends up with the consumer. With this technology, I can easily gather and verify these stories, keep them connected and embed them into my pieces and anywhere online to be viewed and engaged with.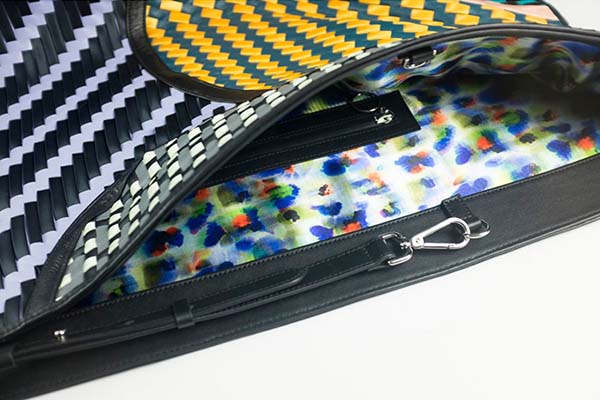 You source your materials sustainability and ethically, can you tell us about some of your suppliers? Why did you choose to work with them?
My hand-woven technique is made in several stages and requires only a small number of suppliers and skilled hands to be prepared and completed.
We skilfully cut the leather hide pattern blocks into a grid. I only work with European tanneries using leather hides that are a by-product from the meat industry and would otherwise end up on landfill. All my suppliers are Gold-rated members of LWG (Leather Working Group) and have strong ethical and environmental policies in terms of water usage, emissions, dying processes and animal welfare. I think that leather is an amazing material that is contributing to the circular economy if treated with respect.
What about catering for the vegetarian and vegan market?
I have also been looking for a suitable vegan alternative to leather to offer to my clients and explore working with, but I have not found anything of high quality yet which is not plastic coated. I am fascinated by the work of Modern Meadow, they experiment with bio-based leather grown in a lab from collagen; I would love to get my hands on that. I am hoping to introduce a vegan alternative by the end of this year.
You are also working with recycled materials, can you elaborate on that?
For lining and tapes I work with a fabric that is spun from 100% recycled bottles, waste fabrics and fishing nets from the oceans made by ECONYL®. They take these recycled materials to a whole new level by regenerating waste into high-quality new yarn.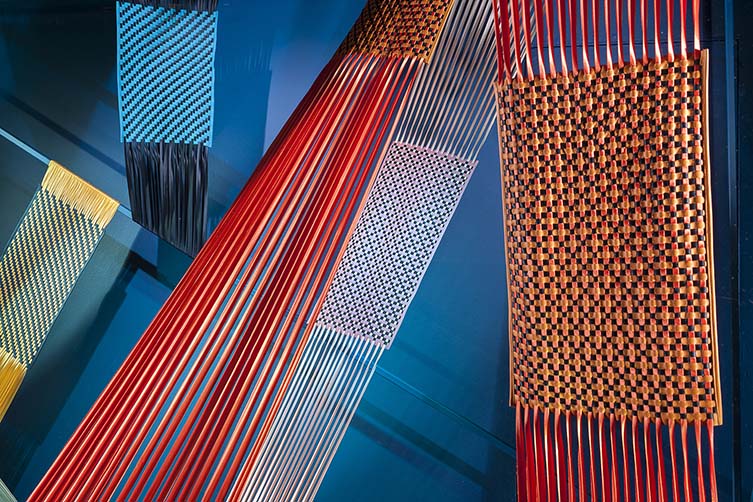 Can you tell us about your collaboration with various NGOs?
Our pre-cut leather panels are hand-woven by Syrian women artisan refugees in collaboration with NGOs and social enterprises in Turkey and then assembled in the UK. Working with this community is a relatively new project. I have made a few visits to Istanbul to meet the NGO and the community, to show them my work and to train the women who are interested in the project.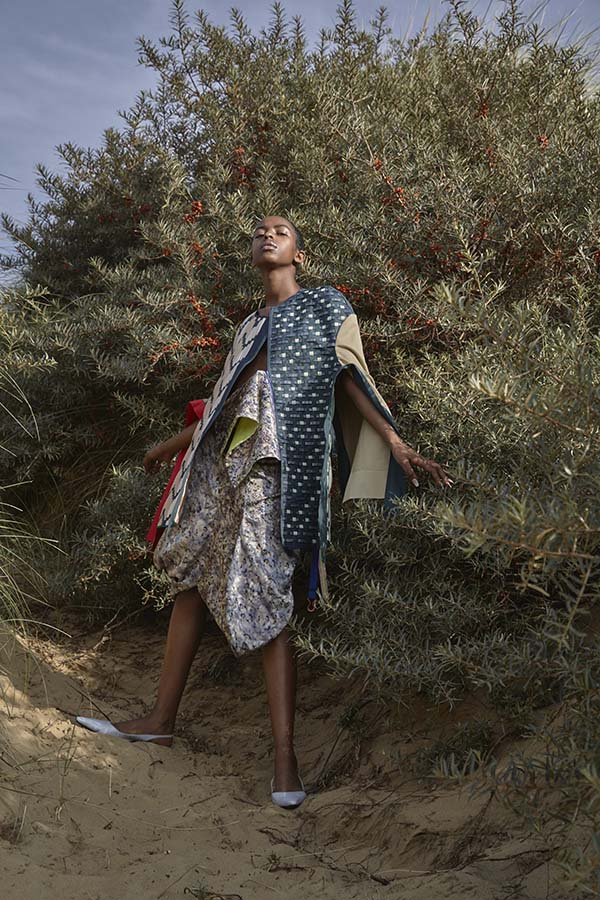 They all fled Syria for a better and safer life in Turkey, and I have trained 15 artisans so far who are going to be running the production themselves, including quality control. This core team will eventually train new women with growing production. The project aims to improve their wellbeing and bring them sustainable and much-needed income. I have a much bigger vision for this project once it is up and running and plan to involve other designers who have an understanding of working with these communities.
You must have a personal collection, one that was particularly challenging or has significant meaning, can you tell us about it?
I stopped producing full fashion collections at the start of last year. I am concentrating on bags and jackets only using my hand-woven technique and also venturing into applying it on larger scale projects in interior design and architecture.
I have spent the whole year changing and building a brand that is responsible and transparent in its practice, work closely with the right suppliers and care about the communities involved in the production. That has been and still is challenging but also very exciting and rewarding.
And finally, the big elephant in the room, do you think that Brexit will have an impact on your business and the fashion industry as a whole? Has it affected you already and do you have any thoughts on the matter as a designer and as a European?
As a European I am sad, I feel that it is a step back in so many ways, and there is uncertainty. As a designer most of my suppliers come from Europe, and leaving might mean higher prices for materials and product. I have not been affected yet, but some designer friends have in terms of stockists waiting on orders to see what will happen.