The Pool Eindhoven is making a splash on the local scene, as diners paddle their way to feast on Mediterranean inspired tapas and handcraft cocktails in a sunset party-inspired setting. Located within the city's hip hostel concept, The Student Hotel, the restaurant is the third in a series; an independent brand that has been designed to retain its individual identity, whilst switching materials and moods to suit each individual locale.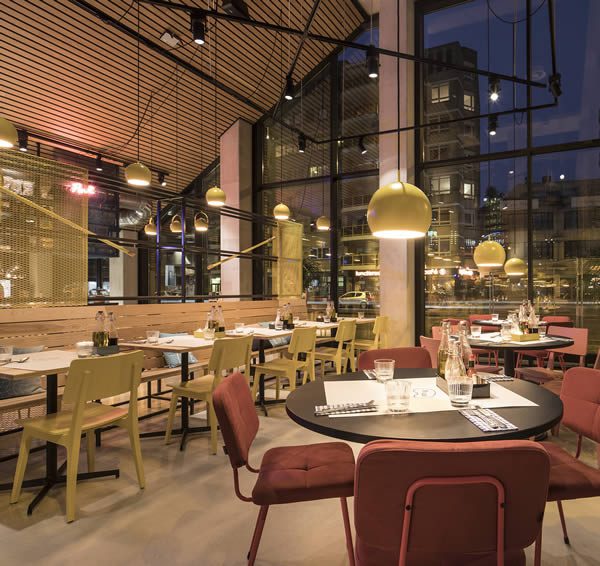 Amsterdam-based studio ninetynine worked on the interiors, creating a space that features shades of dark blue to reflect a night setting; red and pink hues and yellow globe-shaped lighting representing the setting sun. Less overtly 'pool' themed and kitsch than its debut in Amsterdam, The Pool Eindhoven has been designed to carry off the look and feel of a sunset pool party; where guests will find a cocktail station, stone oven pizza area and full restaurant where focus is on sharing and embracing the joie-de-vivre.
Occupying a double-height space surrounded by three glass façades, a central metal staircase leads from the hotel's auditorium to the mezzanine area — where all the warm colour combinations, considered materials, and happy diners tucking into sun-soaked exotic flavours can be spotted basking in all their glory.