"Toronto is beginning to redefine itself through its concrete heritage," write an editorial team from the city's ERA Architects, "the fabric of our post-war growth—the architecture of our schools, universities, libraries and mass housing. Many are developing a cult following as a new type of landmark; and some are finding a second life through new investments and restorations."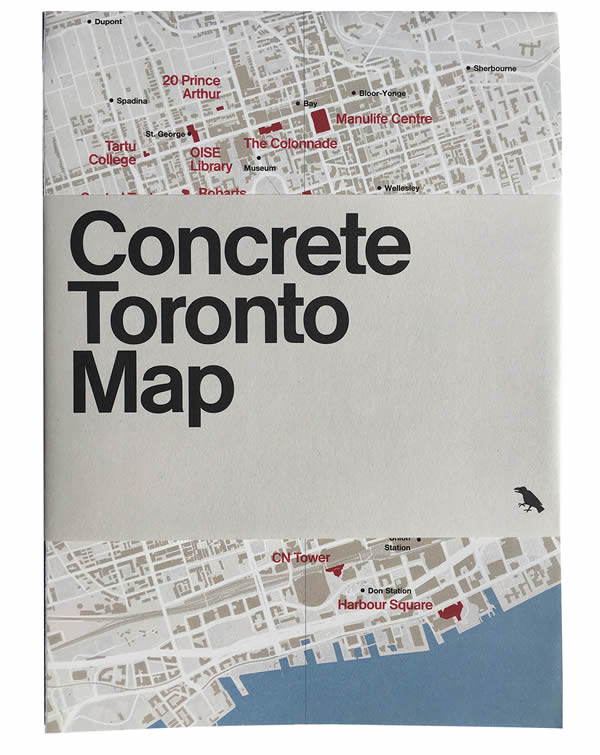 Growing in popularity, though many are still under threat—celebrating both the city and the trustworthy material that has shaped its aesthetic, Blue Crow Media's latest architecture map serves to highlight this crucial moment in the city's understanding of its concrete legacy, and fights the corner for the preservation of these architectural icons.
Concrete Toronto Map features a selection of more than 40 concrete and brutalist structures built between the late 1950s and early 1980s; including its most famous formation, the CN Tower—which, at 553.3 m-high, held the record for the world's tallest free-standing structure from 1975 to 2007.
Edited by Toronto-based ​ERA Architects and with photography by Jason Woods, the guide also looks at the social and cultural impact the concrete-built post-war development left on Toronto and its suburbs. The clusters of concrete tower blocks in neighbourhoods such as Flemingdon Park or Crescent Town; Viljo Revell's New City Hall; Robarts Library by Warner, Burns, Toan & Lunde; the Central Tech Art Centre by Fairfield & DuBois; or Ontario Science Centre by Moriyama & Teshima, each demonstrate the scope for experimentation that the material allows, defining a key moment in Toronto's history.
"The progressive political climate of the time suited the democratic qualities of concrete," say ERA of the decades where concrete made its mark on the city, "its accessibility and responsiveness were harnessed by modernists to create new government buildings, libraries, schools, apartments, and university campuses."
Concrete Toronto Map, by Toronto's ERA Architects with photography by Jason Woods, is available now from Blue Crow Media.